The Evolution of Buddism in China——Holy Mountain
Nowadays people not only travel to the Jizu Mountains for religious reasons but as well for hiking through the mountains.
Jizushan Mountain is the fifth famous Buddhist holy mountain in China. It's said this mountain was the place where Mahakasyapa, a senior disciple of Sakyamuni, carried out Buddhist cultivation.
The four other famous sacred 'hills' or monasteries in China Buddhism with their respective Bodhimandas are:
普陀P'u-t'o P'u-t'o, for Kwan Yin or Avalokite'svara, element water;
五台Wu-tai Wu-t'ai, for Wen-shu or Manjusri, element wind;
峨眉Emei Emei or O-mei, for P'uhsien or Samantabhadra, element fire; and
九华Chiu-hua Chiu-hua or Jiuhua, for Tizang or Ksitigarbha, element earth.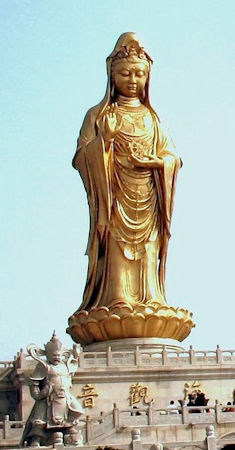 1. P'u-t'o Shan, literally "Mount Potalaka," was identified with Avalokite'svara's mountain of Potalaka, which is often located in the south of India. The Chinese "Mount Potalaka" is a mountainous island of Pu-to Shan Kwan Yin statue approximately 48 square miles situated over 62 miles east of the coast of Zhejiang province, covered with monasteries, cave temples, and shrines, and is one of the most important Buddhistic centers in China. Since this is a place where many visitors have sought and received visions of Kwan Yin, its patron Bodhisattva, over the millennia it has become the foremost site for Kwan Yin worship in China. The island harbors several Buddhist monasteries and landscape features connected with Buddhist mythology, all of which have undergone periods of prominence, disintegration, and restoration.
P'u-t'o Shan was a place of pilgrimage as early as the Sung dynasty (960–1279), and is believed to have been first established in 916. Its early sect was associated with Kwan Yin, the goddess of mercy, an image of whom was brought there from T'ien-t'ai Shan, a centre of Buddhism on the adjacent mainland. In the 11th century a temple to the goddess was restored and considerably augmented; it became a major temple of Ch'an (Japanese Zen) Buddhism in 1131. The religious complex developed strong bonds with the major centers of Zen Buddhism in Japan due to considerable maritime interactions with that country. Evidence of these compelling links is demonstrated by the Mongol ruler Kublai Khan's employment of monks from P'u-t'o Shan as emissaries in his effort to conquer Japan in the late 13th century.
The area was extensively desecrated by the invasions of Japanese marauders during the Ming dynasty (1368-1644), and the temples deteriorated into a state of decay. However, in 1580 the monastic complex was renovated and it was granted Imperial protection during under the Ch'ing dynasty (1644–1911).

2. Wu-t'ai Shan, literally "Five Terrace Mountain," is also known as Ch'ing-liang Shan, which translates as "Mount Clear-and-Cool." It is a short but towering mountainous range lying to the west of Bejing in remote northern Shansi province and extending for more than sixty miles in one direction over an area about 150 miles in circumference. Dominating a plateau filled with temples are five flat-topped peaks: Pei't'ai ("Northern Terrace") at 10,042 ft. ; Chung-Vai ("Central Terrace") at 9,501 ft. ; Tung-Vai ("Eastern Terrace") at 9,182 ft., and Hsi-t'ai ("Western Terrace") at 9,123 ft. above sea level. Dedicated to Manjusri and unparalleled in the magnificence of its monasteries and temples, not only has this religious complex served as a Buddhist pilgrimage site for almost 2,000 years, it is also regarded as one of the Five Great Places of Pilgrimage by Tibetans and Mongolians, and is the seat of Mongol Lamaism as well.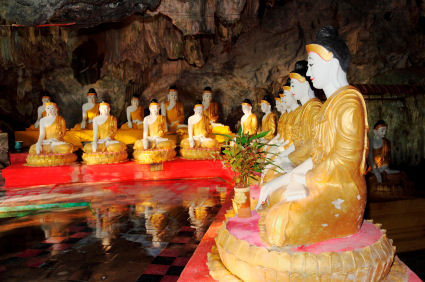 Mount Wu-t'ai originally was a site with some local cults that was initially settled by Buddhists in the late fifth century, although evidence of the first temples' existence was chronicled as early as the Yung-p'ing era of the Eastern Han (A.D. 58–75). The mountain had become a thriving religious center maintaining contacts with India, Central Asia, and Japan by the Sui-T'ang period (mid-6th century). Over 360 temples were built during the Sui and Tang dynasties, when Buddhism held imperial favor. At present, nothing but ruins of them exists. From that time until now it has been one of the penultimate natural sacred sites for Buddhists in China, drawing pilgrims from all over the Mahãyãna Buddhist world. Currently only thirty-nine temples on the plateau remain standing, and eight outside.
3. The eastern range of the Himalayas extends to the edge of the Cheng-tu Basin in the remote Chinese Sichuan Province. At the southwestern corner of the basin stands the sacred mountain and UNESCO World Heritage Site known variously as Emeishan , Mt. O-mei, Mt. Emei or Emei Mountain, located 7km southwest of Emeishan City and 37km from Leshan, 200km southwest of Chengdu. Its name translates as "Delicate Eyebrow Mountain"; it is known as "Great White Mountain" as well. Founded in A.D. 495 by an Indian Buddhist mystic, the sacred site consists of two peaks facing one another, poetically resembling a moth's eyebrows, also pronounced O-mei. Towering to 10,000 feet, the peak of this great mountain is a holy place, the surroundings of which are renowned for magnificent vistas, hidden indigenous wonders, pervasive Buddhist ethnology, profuse variety of species and singular land formations. A serpentine trail leads up the granite mountainside to a large monastery near the peak. The 15-mile-long footpath is not for the timid or retiring. With each spring's snowmelt, Emei Shan is transformed into a central destination for resolute Buddhists who can endure the vertiginous elevation and the tortuous climb.
People have lived on Emei Shan for the last 10,000 years. In the beginning it was a Taoist retreat, but by the 3rd century AD the area had fully developed into a revered Buddhist site. The first Chinese Buddhist sanctuary was constructed here in the 1st century AD. Most of the seventy-six Buddhist temples are stationed near the summit and date from the Ming and Qing dynasties. The monasteries establish an adaptable building style that harmonizes with the terrain. For example, the buildings in Leiyinsi are elevated on stilts while those of Baoguosi are erected on terraces with different floors and levels within the structures. Rigid conventions of sacred Buddhist construction were transformed or disregarded altogether here in an effort to maximize the pre-eminence of the inspiring vistas.
Another example of this remarkable architecture can be seen in the unconventional monastery building that shelters a substantial body of monks year round. It is made of stone that was mined on location. Its roof in particular is noteworthy in that it is constructed of massive, hand-carved timbers anchored in place by boulders weighing hundreds of pounds apiece. This is necessitated by the bizarre pattern of air currents created by the prevailing west wind at this site, which often blast the monastery with ravaging winds with speeds of up to 100 miles per hour. This stone structure has its disadvantages, however, in that it must be difficult to stay warm within its icy confines with the temperature falling below freezing nightly, no matter the season. It is a testament to the monks' advance planning, careful stockpiling and asceticism that they have enough food and are able to survive the many months when the trail is closed during the winter.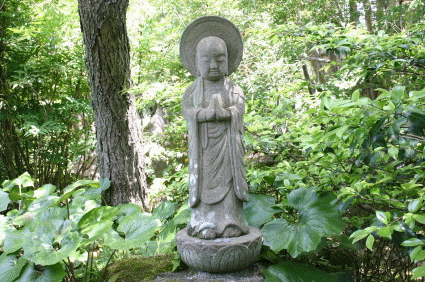 4. Chiu-hua Shan, translated as "Nine Floriate Mountain" or "Nine Flower Mountain", is a Taoist and early Buddhist site situated in one of the most naturally beautiful parts of the Yangtze Valley, southwest of Qingyang in present-day Anhui province. The monastery was extensively destroyed during the Tai-ping rebellion (1861-1865) with a few of the main buildings rebuilt around or after 1867.
This flourishing pilgrimage site near Huang Shan is believed to be the sanctuary of savior-bodhisattva Ksitigarbha (Sanskrit) or Ti-tsang (also known as Jizo Bosatsu in Japan) near Huang Shan. One of the group of eight Dharani-Bodhisattvas with hints of a feminine origin, he is now the guardian of the Earth-store, Earth-treasury, or Earthwomb, and his many representations assimilate Taoist, Buddhist, and Shinto aspects. Though associated with hell's overlord Yama and with the dead, his role is that of savior, holding a place between the gods and men on the one hand and the hells on the other for liberating all in adversity. He labors to alleviate the affliction and shorten the sentence of those imprisoned in hell as well as to respond to the invocations of the living for health, good luck, progeny, and to supplications of all kinds. He is depicted with a resplendent jewel in his left hand and an alarum staff with its six rings in his right.

Some academics postulate that Jizo's representation as a priest originated with a 7th-century Korean monk named Gin Chau Jue who was recognized as an incarnation of Jizo, came to China in 653 and lived at Chiu-hua Shan for 75 years. The monk saint lived to be 99 years old and died on the sacred mountain in 728. According to tradition, his material remains did not decay but became naturally mummified, and at a later date his body was gilded over and worshiped as both an object of veneration and a manifestation of Jizo in the Jouzen Pao-tien (Mummified Precious Hall) of the Pai Su Kung temple located here.