Endowed with pleasant climate, Yuxi is rich in crops and tobacco leaves, hence its honor 'Barn of Middle Yunnan Province' (diān zhōng liáng cāng 滇中粮仓) and 'Hometown of Yunnan Tobacco'(yún yān zhī xiāng 云烟之乡). Yuxi Cigarette Company (Hongta Group) has become a famous cigarette making company. Its product brands such asHongtashan (hóng tǎ shān 红塔山),Ashima (ā shī mǎ 阿诗玛) and Hongmei(hóng méi 红梅) have been popular for many years in China. The area also has beautiful natural sceneries and colorful cultures. Various festivals, dances, musics and folk cultures of different ethnic minority groups should not be missed when traveling here. In addition, it is the hometown of Nie Er (niè ěr 聂耳), the famous musician who has wrote many revolution songs including China's present national anthem.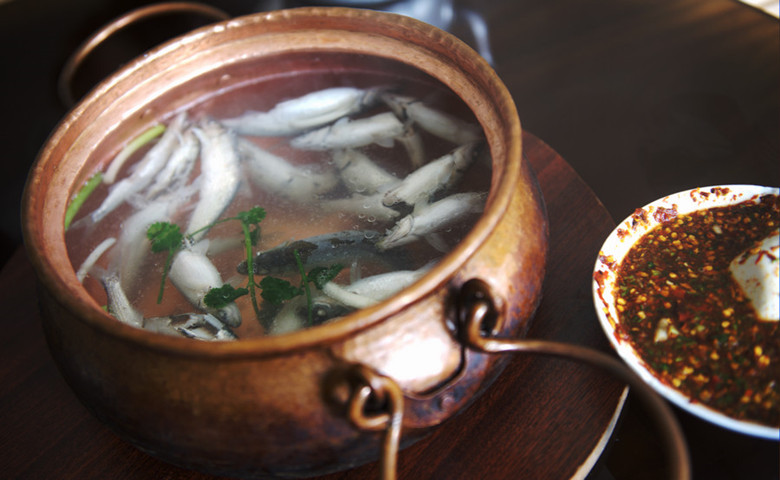 Kanglang fish (抗浪鱼)

In the restaurants of Luchong, there are dozens of kinds of fish on offer. Perhaps the most unique is the kanglang fish (抗浪鱼), aka Schizothorax taliensis, a once-plentiful fish found exclusively in Fuxian Lake. The fish are only 10 centimeters long - it would take at least a dozen or so to make a meal. Despite its status as a second-level protected animal locals stew kanglang in copper pots and serve it with chili pepper.
In recent years Fuxian Lake's kanglang population has dwindled drastically, a trend reflected on local restaurant menus in which the fish go for as much as 2,000-3,000 yuan per jin - roughly half a kilogram. The price of Kanglang Fish has risen 125,000% in the last ten years. In the mid-nineties a pair of kanglang cost eight fen, or one-one hundredth of a yuan. Today they cost around 100 yuan.
Every May until 1998 Fuxian's kanglang would hatch in such massive numbers that they would change the usual deep blue water to the fish's silvery-white color. Area resident Yang Lan, explained what May was once like on Fuxian Lake.
"We didn't even usually eat kanglang back then. I personally preferred shrimp," she said. "We'd all go out in wooden boats to watch the kanglang and take pictures. They were everywhere - we used to catch them with our bare hands."
In the old fishing villages along the lake, you can still see the remains of what some locals jokingly call, "The Fish Festival". Large wicker containers roughly two meters in height once used for catching thousands of kanglang at a time now stand in the doorways of houses and temples, dry and brittle from disuse. Today, they are mere porch decoration.
On the streets of Luchong, there are a few theories about the disappearance of the kanglang, ranging from over-fishing to water pollution. However, the most interesting theory for the disappearance of the kanglang is the appearance of the silver fish (银鱼).
The story goes that in the late 1990s, a new species of fish, silver fish were introduced to the waters of Fuxian Lake. How they arrived and propagated so quickly is lost in legend. But some say the silver fish promptly began eating the eggs of the kanglang, decimating the fish's next generation. Regardless of the accuracy of this theory, these silver invaders are thriving in their new habitat.
Above Fuxian's deep waters, a world away from the kanglang's plight, life on the lake continues as it has for as long as anyone can remember. Fishermen lean back on the seawall, their poles bending forward toward the water. Children play in the choppy waves on the lake's edge.
Fuxian Lake (抚仙湖) is 65 kilometers south of Kunming and can be reached by bus in an hour and fifteen minutes. Buses leave from the East Long-Distance Bus Station (东部客运站) to Chengjiang (澄江) frequently and cost 15 yuan. Chengjiang is a town on the north end of Fuxian Lake. From there, you can hire a motorbike taxi for a few yuan to take you to the lakeside a few kilometers away.
Fat meat rice noodle
When mentioning typical food in Yuxi, the residents in Chengjiang who have live in the 1930th and 1940th will all agree to give highly praise to the delicious taste. It is especially true to the Fat Meat Rice Noodle Restaurant operated by Zhou Pei and Zhou Can brothers, which is well known by the old and the young and has a good reputation all over the city.
Jiangchuan stewed dish
Jiangchuan stewed dish integrated the fresh, tender, fragrant and spicy characters of stewed dish and local traditional flavor. Stewed sour and hot chicken, stewed fish and stewed pig's feet are cooked with Jiangchuan local chicken, fresh fish, or pig's feet. The soup is cooked by pig's bones, mix with natural pickle vegetables, pickle pepper, and other natural seasonings, as well as Chinese medicines handed down from the ancestors. No herbs or spices are added. The taste of the dish is sour but not tasteless, hot but without dryness heat, fresh but without taste of raw meat. The soup is rich in fragrance and tastes refreshing.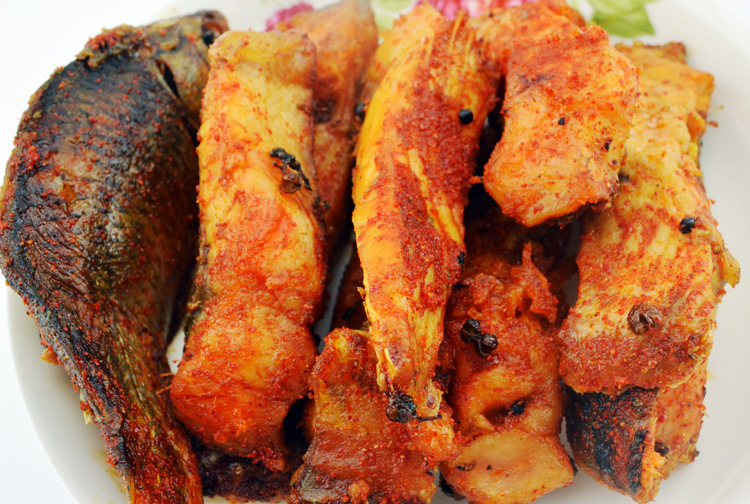 Stewed Loach

It is thoroughly but not mushy. When eating the loach, put the fish head in the mouth and drag out the bone. It is exceptional delicacies.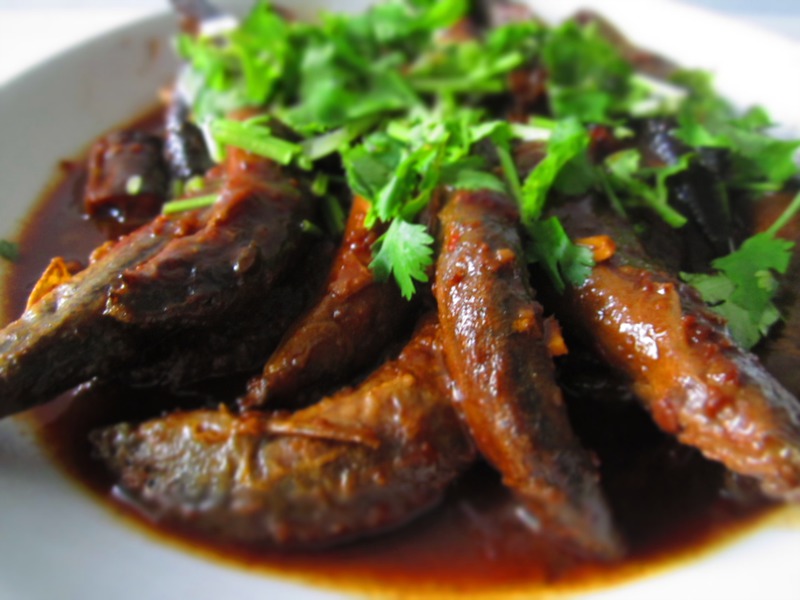 Chengjiang lotus root starch

It has little impurity. The color is pure white. It contains little water, and more Vitamin C and phosphorus disaccharides. The lotus root starch in Chengjiang is famous because most of the lotuses here do not have seedpods at top. As a result, the lotus root is stronger and fatter. It is more juicy and tender. The starch, which collect most of the nutrition, is high in quality. The nature of Chengjiang lotus root starch is quite mild and has a good effect for curing stomach and intestine disease. It is not only a healthy and nutritious food, but also can act as assistant medicine. It is a good present for the patients.