Ludian(鲁甸) is a county with rich resources, especially fruit and food material of high quality. Lies in the northeast par of Yunnan province, the eating pattern of Ludian people is influenced by the neighboring provinces-Sichuan and Guizhou. At the same time, Han people's eating habits are influenced by ethnic groups in Ludian's territory. Some local dishes of Ludian county are list as follow: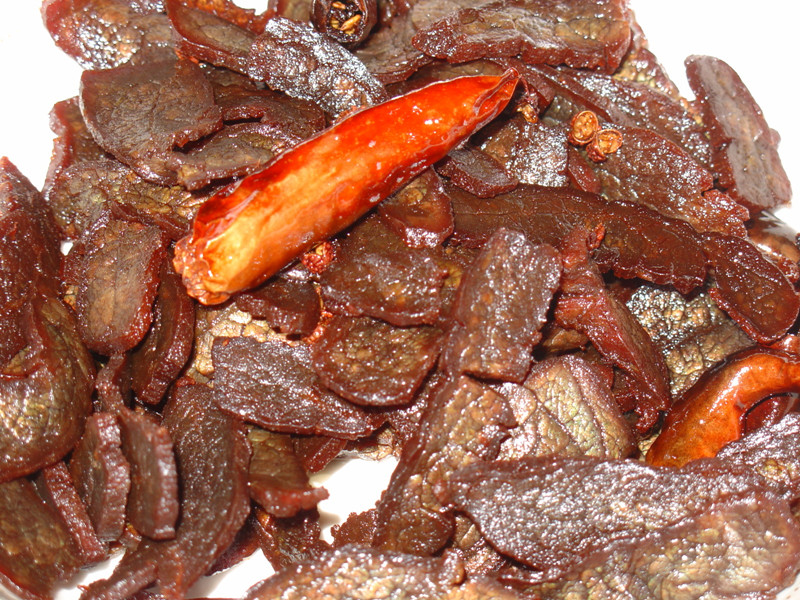 Taoyuan Cured Beef(桃源牛干巴)
Taoyuan cured beef is the specialty of Taoyuan Hui minority township in Ludian county. It is made by folk handicraft of Hui people. Muslims in Zhaotong keep the traditional handicraft of making cured beef all the time. Because the cured beef is delicious and carry-home, it is popular among customers. The best way to cook Taoyuan cured beef is frying with sesame oil.
Wumeng Muslim Roast Whole Lamb(乌蒙清真烤全羊)
The Wumeng muslin roast whole lamb delivered jointly by the Reception of Ludian People's Government, Ludian Hui People's restaurant and Honghu entertainment company(鸿鹄休闲) was awarded as one of the most ten famous Zhaotong dishes.