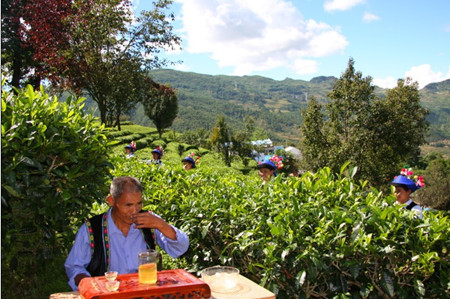 1.Puer Tea勐海茶叶 中国普洱茶第一县 "圣地之旅 茶出勐海"

Menghai County, is the famous "tea" home and Chinese tea home, the hometown of first place, 1700 years ago, wild "King of tea" and dotted with groups of ancient tea trees
China is the homeland of tea, is the source of tea in Xishuangbanna, ancient tea has more than 48,000 acres of century-old community in menghai County, was worthy of the first County Chinese tea. In this vast and magnificent land in the South, from the artificial cultivation of wild King of Gujarat where Pakistan reached tea King is located south of waxy, from Mannuo mountain toHekai mountains, Mengsong mountain from Bulang mountain, all filled with ancient tea fragrance. Dai, Bulang, Hani, Lahu and other ancient peoples, still in the process of the most ancient and eternal unchanging passion, creating a new chapter of Pu-Erh tea .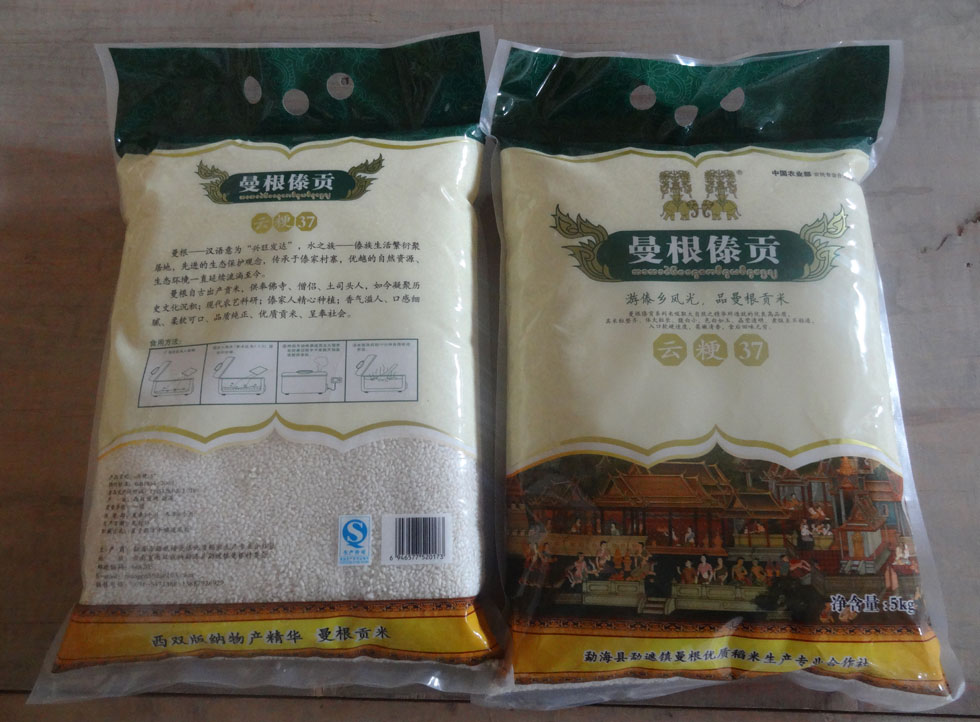 2.Menghai Rice 勐海大米
Four seasons are suitable for rice growing, excellent rice, ancient "granary of southern,(滇南粮仓)"itwas said that Menghai is the national grain production bases and sugar base. Menghai Rice is rich in nutrients, it is one of the staple foods of the Chinese people. Take rice for cases, in each hundred grams rice in the, containing protein (protein food) 6.7 grams, fat 0.9 grams, carbohydrate 77.6 grams, CF 0.3 grams, calcium (calcium food) 7 mg, p 136 mg, iron (iron food) 2.3 mg, vitamin B1 0.16 mg, vitamin (vitamin food) B2 0.05 mg, smoke acid 1 mg and egg ammonia acid 125 mg, Val ammonia acid 394 mg, bright ammonia acid 610 mg, different bright ammonia acid 251 mg, Threonine 280 mg, 394 milligrams of phenylalanine, tryptophan 122 mg, 255 mg of lysine and other nutrients.
3.Xishuangbanna Coffea of Menghai County西双版纳勐海小粒咖啡
In Xishuangbanna, Xiaoli Coffea is an important coffee varieties, rich, mellow, and has a characteristic sweet, hot coffee produced in Africa by cannot be compared. Banna hot work can buy processed Xiaolicoffee is a gift to share. Coffee is rich in protein, fats, sucrose and starch, substances such as caffeine, drinks made from the aroma and taste delicious, nutritious, consisting of tea, cocoa and thus became the world's three major beverages and ranks at the top.
4.Amomum villosum砂仁.
Amomum villosum is produced in Xishuangbanna, Yunnan, especially the Keno Hill area inhabited by Jinuo people.In Yunnan province, scientists work with jinuoren to the result of his hard work. Amomum villosum, bufei woke up the spleen, stomach and kidney, pumped through stagnant air, and cold drink swell swelling "effect. It is a ginger plant, springs of Amomum villosum and Amomum villosum or two kinds of fruit, and medicine. stomach and digestion in a wide role. Rare common Chinese herbal medicines, is also commonly used xiangsha stomach pills, xiangsha liujunzi Wan, Shu Gan Wan Chinese proprietary medicines and other important raw materials.
5.Dai Black potterypottery傣族黑陶
Black pottery is the Dai people's traditional crafts. In 1995, to meet the needs of tourism development, King real estate in menghai County arts and crafts pottery factory was built next to the Pavilion, the production of clay pottery products. It has developed a Tan, cans, bottles, smoking accessories, tea pots, pottery horses, Tao Niu 63 series. Product design novel, delicate carving patterns simple and unsophisticated and refined, elegant appearance. Black pottery tea, mellow flavor of keep. Black pottery vase flower arrangements, have better preservation.