Qiaojia county(巧家县) is rich in natural resources. You can find many kinds of local specialties in the local market. Usually, in each town, the markets are opened three days a time, and in the county seat, markets are opened everyday. If you don't know what to buy in these local market, some local specialties are listed as follow: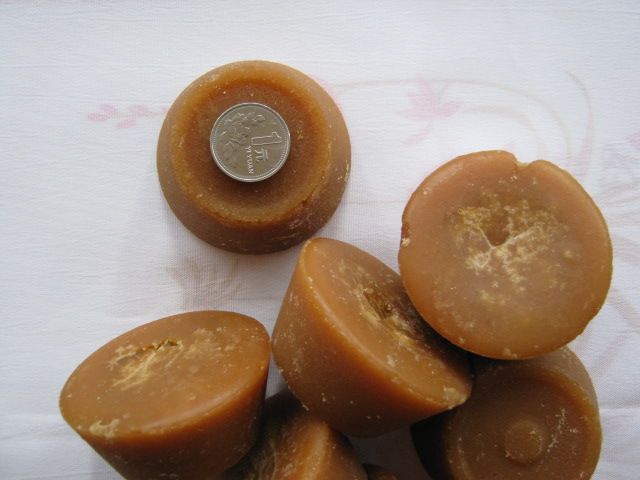 Small Bowl Brown Sugar(小碗红糖)

Small bowl brown sugar is widely produced in Jinsha river area of Qiaojia county. It is made of local sugarcane of high quality by traditional technology. Since the late Qing dynasty, it has enjoyed high reputation ,especially among minority people in Qinghai, Xizang and Sichuan Province. According to the Complete Collection of Local Specialty in China(中国土特产大全), Qiaojia small bowl brown sugar and Mile bamboo garden brown sugar rank first among all brown sugars.
Tiny Pleat Cloak(细褶子披毡)

Tiny pleat cloak is the local product of Qiaojia county, it is popular among Zhaotong farmers for its' white color, classicism and elegance, endurance and warm-keeping. Most cadres who work in the rural mountain areas would like buy ting pleat cloak as their thermal cloth. If you come from cold region, the cloak would be a good choice for your keeping warm.
Other local specialties in Qiaojia county: Qiaojia pomegranate(巧家石榴), corn wine(包谷酒), Qiaojia konjak(巧家魔芋).