Xuanwei Food is most famous for Xuanwei ham,which enjoys a renowned reputation home and abroad.
Xuanwei ham(宣威火腿):

Xuanwei ham, produced in Xuanwei City in Qujing Prefecture, Yunnan Province, enjoys a high reputation both at home and abroad. In 1915 Xuanwei ham won a gold medal at the Panama International Fair. In the shape ofpipa(a plucked string instrument with a fretted fingerboard), Xuanwei ham has thin skin, thick meat, bright color and strong aroma. Thanks to the high quality, it is also known as "Yunnan ham".
Potato cooked with chicken(洋芋鸡):
The ingredients do not stress too much, just the tender chicken, the chicken is best, the potato is full used hemp skin moisture less the kind of.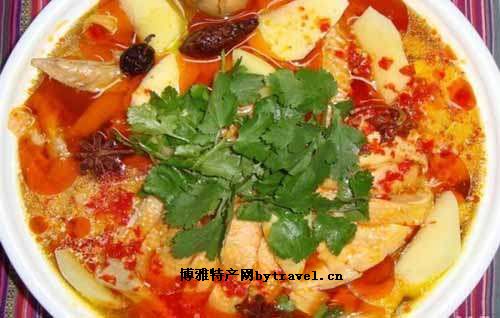 Changtang Golden Tofu:
Changtang, locates in Qujing Wumengshan deep hinterland,the golden tofu is tied to sell with a string, become a wonderful view.