Yongde county is famous for its tea,when it comen to Yongde shopping , Yong De ( Mu Ye Chun ) Pu-erh Mini Beeng Cha(永德(牧野春)普洱迷你茶), Yong De Lao Cha Tou Ripe Pu-erh tea Nuggets(永德老槎茶头熟普洱茶), 2012 Yong De "Certified Organic" Ripe Pu-erh tea * 357 grams(永德有机熟茶), Autumn 2010 Mang Fei Mountain Mao Cha * Sun-Dried Raw Pu-erh tea(晒青毛茶)is indispensenive..
Yong De ( Mu Ye Chun ) Pu-erh Mini Beeng Cha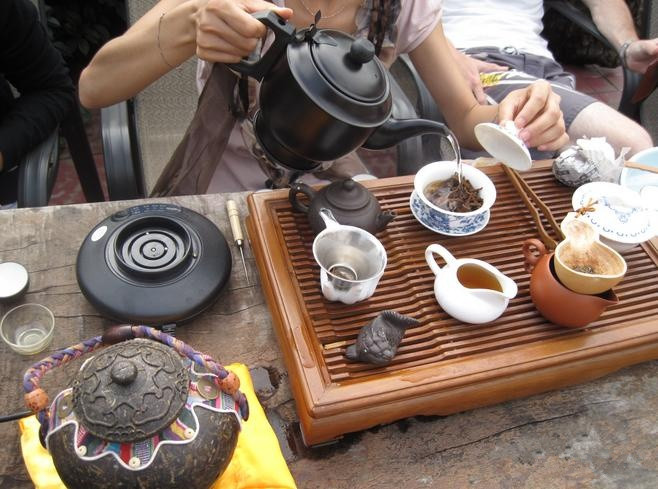 Shou (cooked) Pu-erh (熟茶)
Yong De area, Lincang Prefecture Tea Growing Area, Yunnan Province, China .
The leaf used to compose this tea cake was gathered, pressed and fermented in the Yong De area of Lincang Prefecture in the new Yong De Tea Factory. This factory is owned by the Shangjiang Mengku Tea Factory, which is based in Mengku County and draws on Mengku leaf materials for the Pu-erh made in that factory. So Shangjiang now operates two factories, each producing Pu-erh that reflects the specific flavor of the terroir of each place.
For this mini Mu Ye Chun cake, the leaf has been fermented for 45 days. This tea cake is a fine composition of various grades of loose leaf shou-Pu-erh specifically chosen to give balance and texture to the flavor of the tea liquor.
The cake contains a high percentage of golden tips, which adds sweetness and clarity to the flavor. The spicy, earthy aroma is pleasing and enticing, and the color is a deep, coppery red.
Unlike many mini shou Pu-erh which are very hard and tightly compressed, this cake has been given light/medium compression which means it will easily break-up by hand or with a Pu-erh knife. To open the cake: gently bend back and forth to loosed the interlocking tea leaves and break the cake into large pieces or use a Pu-erh cake breaking tool to separate the leaf.
Compare this Yong De tea cake to our Yong De Cha loose leaf sheng Pu-erh!
Shou 'cooked' Pu-erh
· Yunnan Province, China
· 145 grams (5 ounces)
· Producer: Shangjiang Mengku Tea Factory/ Yong De division
· This distinctive cake is made from spring materials harvested in 2008
· Pressed in fall 2008
· Blended from different grades of leaf after the fermentation
· The fragrance is pleasantly spice and earthy, very little "wo dui" aroma
Steeping Instructions:
Carefully scrape the tea cake to loosen the leaves.
Western-style steeping in a medium to large sized teapot:
Use 2 teaspoons (3 grams) of tea per 6oz of water
Use water that is 200° - 210°F
Steep for 3-4 minutes
Re-steep this leaf 1-2 additional times
Asian-style steeping in a small teapot under 10oz or in a gaiwan:
Use 4 teaspoons (6 grams) of tea per 6oz of water
Use water that is 200° - 210°F
Steep for 25 seconds
Increase the steeping time an additional 5-to-10 seconds with each re-steep
Expect to re-steep this leaf 4-to-6 times or more
Note: Pu-erh is always 'rinsed' before being steeped. This is a quick application of hot water that is poured off immediately, and then additional hot water is used for the infusions that are drunk.
Yong De Lao Cha Tou Ripe Pu-erh tea Nuggets
Cha Tou is a kind of tea nugget that forms naturally from the pressures of compression and heat that occurs during the fermentation process. Typically during fermentation process to make ripe pu-erh there is a pile of tea about 1 meter high. It is kept wet to allow the fermentation process and the pile is turned every few days to allow for an even degree of fermentation, moving the tea from the bottom of the pile (where it is hotter and wetter) to the top of the pile where it is cooler and drier. The "cha tou" are the leaves that ball up and get stuck together. The best cha tou are ones that have not been over-fermented and are smaller in size.

The tea was fermented in 2013 at the Yong De Zi Yu Tea Factory in Yong De county of Lincang. It is creamy and smooth with natural rose taste! It has already having lost most of its post-fermentation funk it's tea liquor is a clear and deep red-wine color. It can easily be infused more than 25 times!
2012 Yong De "Certified Organic" Ripe Pu-erh tea * 357 grams
The 2006-2010 version of this tea from the Yong De Zi Yu tea factory has become one of my favorite ripe pu-erh teas. I am excited to offer the 2012 version of this tea, which has been certified organic by COFCC. This tea is special because instead of using inferior summer harvest Pu-erh for fermentation, first flush spring material was used for fermentation. Fermentation occurred in 2011, and the tea was pressed in 2012. Aromatic and satisfying!

Date: 2012
Net Weight: 357 grams per cake (7 cakes per stack)
Ingredients: Spring 2011 Yong De fermented material
Produced by Yong De Zi Yu Tea Factory
Autumn 2010 Mang Fei Mountain Mao Cha * Sun-Dried Raw Pu-erh tea
The mao cha has been stored in the dark but with airflow for 5 years now. The tea has mellowed in taste, but still brews up something strong and pungent in the mouth with little (but still noticeable) astringency and bitterness. Cha Qi is strong and noticeable.

Mang Fei mountain is in Yong De county of Lincang near the Myanmar border.

Just 40 kilograms in total

Yongde Ripe Pu-erh
Our tasters all agree that this dark puerh (pronounced POO-ar) cake is smooth and earthy. It is an easy drinker with distinct notes of leather, peat, mushroom and ocean. The tea leaves for this bespoke cake were harvested in 2012, and pressed into cakes in 2013.
BREWING INSTRUCTIONS (8 OZ. SERVING)
Break off approximately one heaping teaspoon of tea leaves into your infuser.

Heat water to 212° (boiling).

Pour 8 oz. of water over tea leaves.

Steep tea for 3-5 minutes (depending on taste preference).

Remove infuser and enjoy tea.



POTFUL:
Simply add to your infuser one heaping teaspoonful of leaf per 8 oz. of water and place it in your pot, then add the appropriate amount of 212° water and let it steep for 3 to 5 minutes. Remove the infuser and serve!
ICED TEA INSTRUCTIONS:
Though we don't necessarily recommend drinking Yong De iced, our opinion is that a cooled concentrate works best, as regular-strength brew tends to become watery as the ice melts. So, use the above leaf quantities, but half the water, allow it to cool, then pour it over ice and enjoy! The brew will dilute down to proper strength as the ice melts.
Pu-erh tea is made from Yunnan large-leaf varietal of Camellia Sinensis. It is typically processed into compressed cakes, bricks and tuos. Pu-erh is particularly special because it can be aged for decades or longer, always changing and (in most cases) developing more depth and texture. Raw Pu-erh (生茶) is the traditional form of Pu-erh, and is sun-dried and compressed. Ripe Pu-erh (熟茶) is fermented during a 40-50 day period under-going a mellowing process that changes the tea into something dark red-brown in color.