Yuanjiang county is abundant in local dishes, especially ethnic groups' food. Potherb and wild flower are important food material for ethnic people in Yuanjiang county. Their eating habits are quite unique that you will see many kinds of food here you have never seen before. Your stomach will be satisfied with those delicious dishes.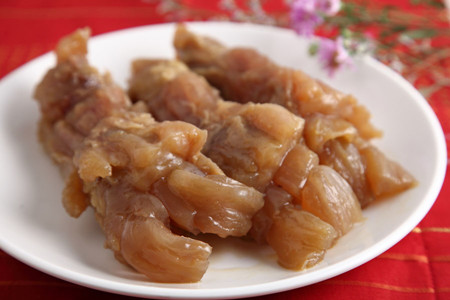 Been Tendon(牛蹄筋)

As a signature dish of Yuanjiang cuisine, beef tendon is widely welcomed by local people, it is always offered on the table of sidewalk snack vendor. The way of cooking it is to fry first , then stew for about one and a half hour, pepper is necessary for the dish. The flavor is smooth and delicious, as a visitor, beef tendon can not be missed if you go to Yuanjiang county.
A Full -Course Dinner of Aloes(芦荟全席)
Yuanjiang is the hometown of aloes, you can find many kinds of aloes here, and wild aloes is common on the table of Dai people. Dai people here call aloes as Yahajiu(亚哈韭),means medicine like fire light. They cook aloes in all kinds of way: fry, stew, soup, steam and so on.
You can also taste some local dishes like Laba Ham(腊八火腿), fried mud fish(炸泥鳅).