Yunxian is known fo Langcang beer in the world, in here you not only can drink beer but also you can suffered to Yunxian delicious and gluttonous food. Unique local characteristics food makes you feel people's passion for life in Yunxain. White flower Pawpaw(云县白花木瓜), let you eat in the mouth ,enjoy in the heart ; Wangzi Rice noodle (旺子米线)--enjoy for your tongue; Yongbao white radish (涌宝冬萝卜), both vegetables and fruits, Yunxian Local chicken rice noodles土鸡米线the unique flavor Yunxian Local chicken rice noodles becomes the most special snacks among so many Yunxain rice noodle snacks.; Niu Sapie(牛撒撇) is rich flavor, not greasy, together color with flavor and taste ,the raw material can be described as impressive edible, no pollution, delicious and tasty. Yuan Tangba(圆糖粑)-only this one, no other stores, simple raw materials, but production of fine, unique flavor, a reaal different kind of enjoyment. Chicken and ham with Pawpaw(火腿木瓜鸡) Chong Gabba(舂干巴) Soft yellow fruit cake (黄果软饼)are famous food.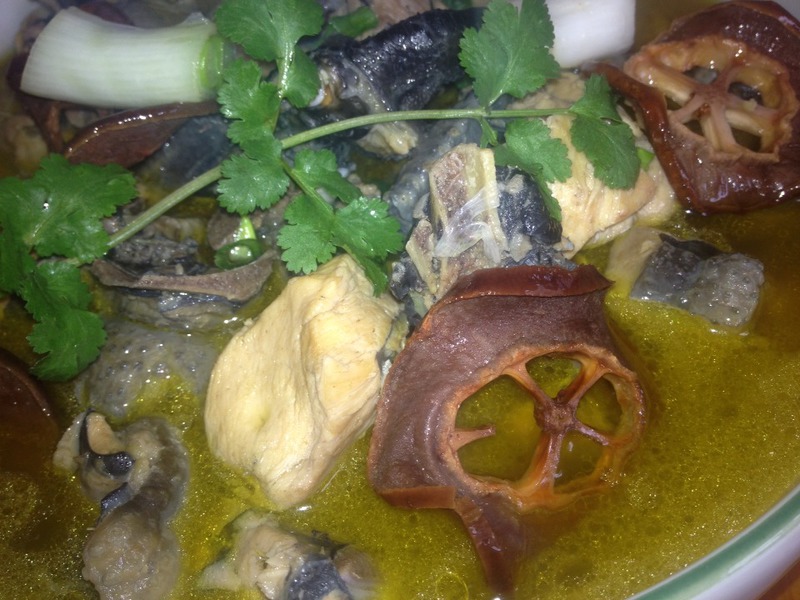 White flower Pawpaw in Yunxian 云县白花木瓜

Yunxian White flower Pawpaw is the specialty of Lincang. Under the certain climatic conditions of Yunxian the White flower Pawpaw form the characters -strong reproductive capacity, widely adaptability, early fruiting, rich flavor, high yield, flesh plump, delicate and no residue, etc. Its nutrients is better than other varieties of pawpaw. It is a unique agricultural product with long history and development. Yunxian white pawaw won the national geographical indication trademarks According to the Compendium of Materia Medica 《本草纲目》record:: Pawpaw can active liver and spleen appetizers, release liver and relieve pain; can be used to treat rheumatism, cholera, dysentery, enteritis, beriberi and vitamin deficiency disorders.
Modern medical prove that: pawpaw contains lots of Oleanolic acid, broad-spectrum antimicrobial , amino acids, and other ingredients ginsenosides which are beneficial to human health and longevity. Yun xian White pawpaw's sour is moderate, less bitter than safflower pawpaw. Now people use pawpaw as medicine also use as food ,such as cooked pig with papaya, fried chicken 、pork with papaya and cook pickled cabbage and so on . Yunxian White flower Pawpaw both can appetizing and can cure disease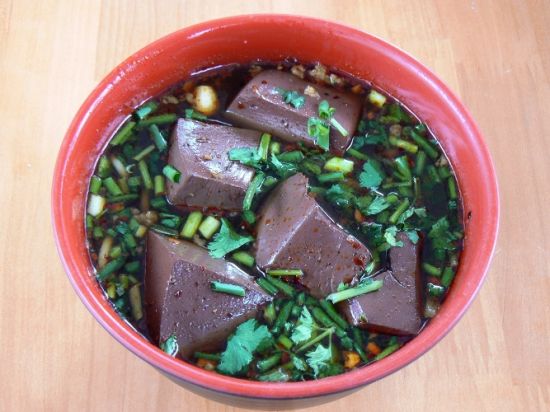 Wangzi Rice Noodle 旺子米线
Yunxian Wangzi Rice Noodle(云县旺子米线) belongs to Fengqing local flavour snack as well as Yunxian. It adds an amount of salt into the fresh pig's blood (Yunxian people call "blood" as "Wang Zi"(旺子)) till foam roll then add three times water and let them stand for half an hour. When to eat will use high-quality rice also use natural mountain spring water to soaking, grinding, filtering, steaming, pressing, boiling, rinsing and other eight processes. Adding fresh meat and pig blood soup to the hot rice noodle. After adding red pepper oil, Wa coriander, onion, soy sauce, MSG and other condiments. Yunxian Wangzi Rice Noodle tastes delicious, scented and memorable. Yunxain Wangzi Rice Noodle(云县旺子米线) taste is good, delicious and nutritious,suit for all ages.not only the locals common dishes, but also the snacks that interested outsiders seeking to taste when passing Yunxian particularly.
Horse Rolling Around of Yunzhou 圆糖粑
It is a sort of very tasty, sweet and mild local delicacy of Yun County made of sticky rice. In the winter time, top sticky rice was selected and ground into rice flour. The flour is later mixed with fresh water and made into small balls. After being cooked in boiling water for a bout 10 minutes, the ready balls are put and rolled in a bowl with sesame, powder of stir fried soybean and sugar. The special delicacy got its strange funny name because of its special preparation process and is popular for its sweetness and fragrance。
Bean Powder Rice Noodle 豌豆粉米线
This special local snack of Lincang uses good quality rice noodle and pea powder as major material and is seasoned with sesame, ginger, chili oil, garlic mash and sauce etc.
Chicken Rice Noodle 土鸡米线

Yunzhou rice noodle is the most characteristic local snack food of the Yun County. The slim, white and elastic rice noodle is cooked with black bone chicken, hot pepper oil, coriander and ginger etc. The rice noodle is famous for its pleasing scent and wonderful taste.
Tomato Nanmi 土豆泥
Being a special Thai dish, it is indeed a sort of jam made of tomato. When preparing the food, tomato is grilled on fire and peeled later. The peeled tomato is mashed and mixed with shallot, garlic, hot chili, cilantro and salt etc. The sour and appetite- arousing tomato jam is often eaten with mint and bitter bamboo shoot.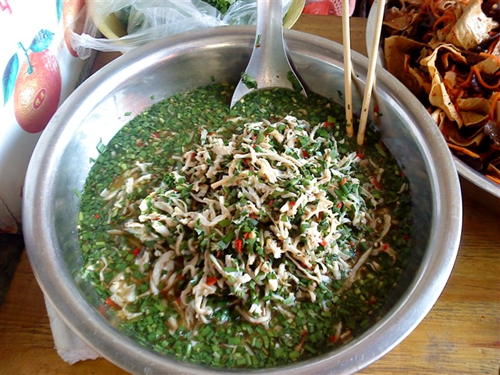 Niu Sapie 牛撒撇
Niu Sapie is special, in that it uses a unique seasonings—the matters that in cow stomach and has been mixed with gastric juice ,but not digested and absorbed. It sounds incredible, but without it, the Niu Sapie(牛撒撇) can not called the name. Niu Sapie牛撒撇made by Dai people is spicy, bitter, cold, sweet, tasty and color pale. Yunxain people as well as Dai people has a special preference for Niu Sapie(牛撒撇), not only they like to eat, but also like to entertain guests as the finest food。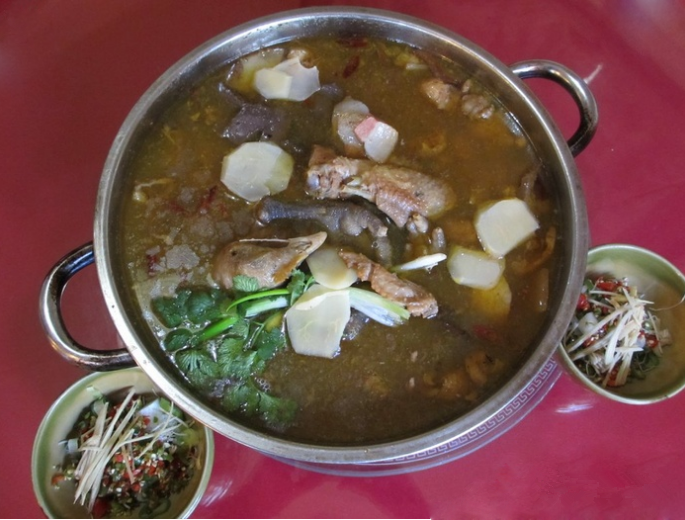 chicken and ham with Pawpaw 火腿木瓜鸡

The main raw material of Yunxian County's cuisine is wax ham, w White flower Pawpaw, Located chicken . It belongs to medicated food, not only taste good, but also has health care value. The most famous r chicken and ham with Pawpaw(火腿木瓜鸡) of Yunxian area in Yan Touyan(羊头岩)of the junction of Yunxian and Lingcang . Yan Touyan(羊头岩located in the strategicr traffic road , vehicul are rich, The people who are special interest in chicken and ham with Pawpaw often come here to taste.
Chong Gabba 舂干巴

Chong Gabba(舂干巴) is one of the three dishes of Dais. It is said that it was reserved for nobility headman enjoy in the past. The material is the unique fat beef, that selected from Dehong . The beef is unreinforced, After charcoal broiled, straight tear into fine strips by hand. Then frying ,put the natural spices such as lemon, vanilla, millet into the he barrel ,final with a wooden hammer to Pestle or directly add seasoning to made salad to eat. Ganba of Dai is unique taste, with strong ethnic flavor. It has been made package on the market as snack foods.
Soft yellow fruit cake 黄果软饼
Soft yellow fruit cake (黄果软饼) produce from Yunnan, Using the yellow fruit produced in Lancang area and the sugar brewed Yun State. There are sweet and delicious, refreshment features. They were exported to Southeast Asian countries before reform and opening up.