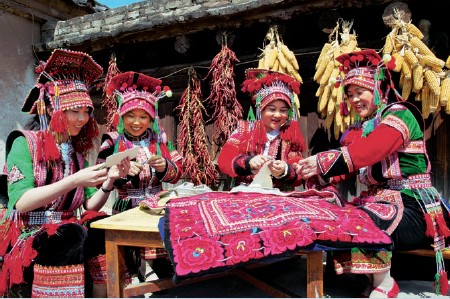 Paper-cut is a fine art form throughout China either for the Han Chinese or most of the ethnic minorities. In the southwestern Yunnan Province, ethnic minorities that are known for paper-cuts include the Bai, Dai, Naxi and Yi etc.
Yi Ethnic Paper-cuts
The intelligent Yi ethnic ladies also give full play to their inspirations by making a variety of paper-cut artworks mainly used for decorating their costumes, bedrooms, waiting rooms, and most of the time for religious ceremonies. Patterns included are mainly plants, wild lives, and holy things in the Yi ethnic religion.
Dragon, phoenix, fish, birds, butterflies, peach blossoms, lotus flowers, tigers, magpies and others are what we normally can find on these artworks. They are widely used by people of different ages, social status and for different purposes.
In Longwu Township of Shiping County, the Huaoyao (flowery) branch of the Yi ethnic minority is such named because of their costumes adorned by beautiful embroideries. These embroideries look brightly-coloured, delicate, and vary a lot in patterns.
In Longwu area, it is a tacit criterion to judge a girl by her needling skill-to which paper-cuts are quite critical and even decisive. Girls at the age of eight or nine begin to learn from their mothers how to make paper-cuts and embroideries. And they are supposed to do on their own when they are 14 or 15 years old.
For a long time, paper cutting has been passed down from generation to generation, and the Yi-style paper-cut has featured distinctively ethnic and local influences.
A traditional Huayao Yi ethnic outfit requires scores of complicated embroidering processes. And one can imagine that, for the fine and delicate embroideries for the outfit, a girl must be wholly devoted into the paper-cuts at first.