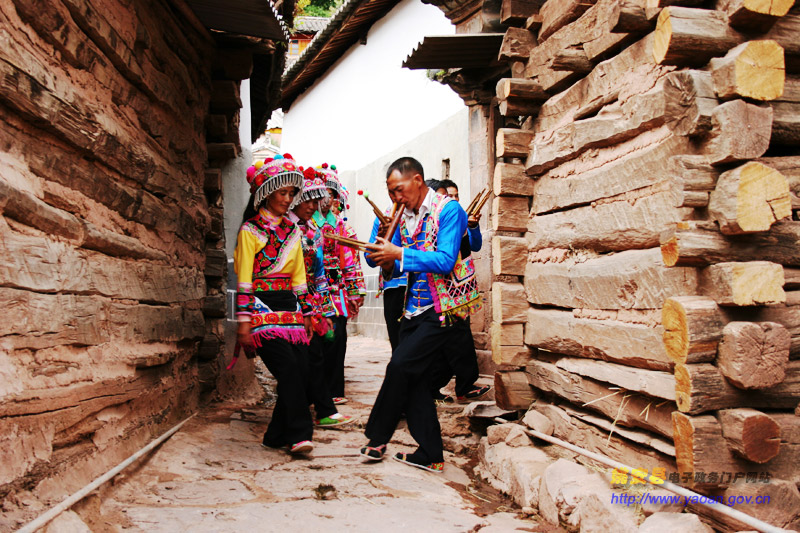 (Picture from yaoan.gov.cn)
Transliterated from the Yi ethnic language, Meige is a generic term of the Yi ethnic tunes in Yao'an County; it's said to originate from Mayou Village of Guantun Township (Yao'an County), and is quite popular in the counties of Yao'an, Dayao and Yongren etc.
Meige is deemed an encyclopedia reflecting multi-aspects of the Yi ethnic life and production.
So, Meige Culture Festival is in fact a grand antiphonal-singing competition or singing festival of Yi ethnic group of Yao'an County.
And Meige tunes can be further categorised for: (1)-the elderly; (2)-the middle-aged; (3)-the youth; and (4)-the kids.

彝族梅葛文化节
农历十月初八,彝族年。这一天楚雄彝族自治州姚安县将在被誉为"梅葛故地"、"歌舞之乡"之称的官屯乡马游村举行"姚安彝族梅葛文化节",来宾可以聆听到彝族史诗《梅葛》的传唱盛况。 梅葛文化节,是姚安县以梅葛故地马游坪为主要标志的彝族山区隆重的一个节日,以用梅葛调吟唱梅葛为主要内容。民间的通俗叫法是梅葛会,也叫对调子,就是通常讲的赛歌会。
来历
梅葛文化节,是近些年的叫法。在过去,民间的通俗叫法是梅葛会,也有叫对调子的。其实就是通常讲的赛歌会。这是姚安县以梅葛故地马游坪为主要标志的彝族山区比较隆重的一个节日,以用梅葛调吟唱梅葛为主要内容。
梅葛
是当地彝语的译音。梅是嘴的意思,葛是古老、过去的意思。翻译成汉语,就是把祖先的历史说出来。祖先的历史即梅葛史诗,分创世、造物、婚事与恋歌、丧葬四个部分;说出来即用梅葛调吟唱出来,并且必须用梅葛调正腔吟唱。因为梅葛调分正腔、慢腔和娃娃腔。正腔多为朵觋(毕摩)或老年人演唱,曲调高亢响亮,近似于吼,叙事性较强,主要是唱述梅葛史诗及先辈们的历史、教人农事和演绎风俗,多在祭祀或正式场合演唱。慢腔多为伙子姑娘们演唱,曲调婉转悠扬,以打情骂俏表达爱恋为主,多在野外相聚或"姑娘房"里演唱;也有中年人演唱,曲调如咽似诉,以表达苦闷情感为主,多在山间田野或非正式场合演唱。娃娃腔多为孩童演唱,曲调诙谐幽默,朗朗上口,以表达天真好奇的童趣为主,除庄重场合外都可即兴演唱。
吟唱梅葛
是彝族群众代代相传的传统。听老人们说,过去除祭祀、过年过节及婚丧嫁娶要吟唱梅葛外,每年旧历的二月八还要举行一次梅葛会,由各山寨轮流主持。届时,来自山山箐箐的男女老少身着平时舍不得穿的彝族盛装欢聚一堂,唱梅葛调,跳葫芦笙舞,进行物资交流。
活动中,从始至终贯穿着梅葛吟唱。先是举行祭山仪式,由朵觋(毕摩)主持。开场白后,就用梅葛调正腔唱诵造天造地、虎变万物、洪水换人种、两兄妹传人种、两兄妹造日月和分四季盘庄稼等梅葛。然后是唱梅葛比赛,由各山寨选派的歌手对唱。如果是一男一女,双方又有点意思,起唱时还会用歌声互相打赌,赌注即输家跟赢家回家。但通常都是女方故意输给男方。这种演唱比赛较为独特,都是即兴编词,随口就来,一问一答,环环相扣,以回答不了唱不下去为输。比如演唱的主题是造房子,就要从哪个来号地脉,地脉的情况怎么样,什么木料做什么用,木料又从哪里砍,什么人抬……一直唱到搬新居。如果还没有输赢,就继续唱下去,唱搬新居以后的情况,比如什么屋派什么用场……就这样树生枝枝生叶地不断演绎牵扯下去,既比歌喉,又比心智,有时候要几天几夜才唱得出输赢。与此同时,还有自发组合的演唱比赛。年老的,一般在火塘边进行;中青年的,一般在山野林间进行。由此还衍生出青年男女用梅葛调打情骂俏直至传情达意私订终身。
传说
为什么要举办梅葛会?据民间传说,是天神的旨意,是天神给人间传授梅葛时定下的规矩。
那是一个古老的年代,生活在马游坪的先祖们日出而作日落而息,日子过得像白开水一样寡淡无味,一点乐趣也没有。一天晚上,一个叫朵觋的小伙子收工回家,头被树上挂着的葫芦碰了一下,很疼,朵觋开口就骂,并把葫芦扯下来丢下山箐。殊不知,这个葫芦乃天神所变。天神见世间凡人如此对待葫芦,非常想不通,晚上就托梦责问朵觋,说你们知道人都是从葫芦里来的吗?朵觋说不知道,这里的任何人都不知道。天神很失望,说你们不知道自己从哪里来,也不知道世上万物从哪里来,难怪你们不知道祭祀神灵。于是决定开启人的灵智,每晚上用托梦的办法给朵觋传授《梅葛》,并传授祭祀礼仪。但传了八晚上,朵觋记住了后面又忘记了前面,效果非常不好。天神很着急,因为天神只能在人间逗留九天。
文字传授
如果用文字来传授,效果会好,但离开天庭下凡时忘了带文字,所以没有文字来传授。情急之下,天神创造了梅葛调,用唱的形式才把《梅葛》完整地传授给朵觋。临走时,天神告诉朵觋,说你从此以后就是通天人之际的"朵觋",一半是神,一半是人。还说,每年旧历的二月八日是山神树神水神等诸神聚会的日子,在那一天祭山并吟唱《梅葛》,会得到各路神灵的护佑。
就这样人间有了朵觋(毕摩),不仅主持各种各样的祭祀,还负责传唱《梅葛》。从此,人们知道了敬畏神灵,让无助的心灵找到了慰藉的依托;还学会了唱《梅葛》,让愚钝的脑海中拥有了一个诗意的世界。从此知道天神造天造地造万物,知道洪水换人种时俩兄妹躲在葫芦里幸免于难,知道兄妹传人种生下了葫芦,然后从葫芦里走出了人类的祖先;从此领悟到了音乐的美妙,体会到了舞蹈的乐趣,从此彝家人会说话就会唱梅葛调,会走路就会跳葫芦笙舞。但因为没有文字,所以《梅葛》只能口传心授。一代又一代,传唱的人越来越多,流传范围也越来越广,《梅葛》的版本也多种多样。但不管如何变化,创世、造物等主体部分大同小异,被彝家人奉为"根谱",被今天的研究者视为"史诗",看成是彝族文化的"大百科全书"。
解放后
因受"破四旧"和"文化大革命"等政治影响,梅葛会这种民间活动一度被取缔,梅葛传唱也作为封建迷信被严格禁止。1992年,沐浴着改革的春风,马游梅葛文化站正式挂牌成立,梅葛传唱才在民间重新兴起。2005年,首届马游梅葛文化节在马游村委会举行。今天的梅葛文化节,是原有梅葛会的继承和发展,是梅葛文化保护、传承与发展的新形式,是实施"文化荣县"战略的重要举措之一,是"文化姚安"的重要组成部分,是让梅葛这朵民族奇葩走向世界的桥梁和纽带!