February Festival 二月会
27 March 2016 in Lanping
The main Bai festival in the Lanping area.
In 2013 the festival will last eight days: http://lp.nujiang.cn/news/html/?1679.html

Bai People In Lanping Celebrated Eryuehui Festival
Attired ethnic members in Lanping County (in Northwest Yunnan) celebrated "Eryuehui Festival" (Lunar February Festival) of the Bai People on March 23 at the foot of Xuebangshan Mountain.
Originating from religious ceremonies, "Eryuehui" has so far evolved into a grand trade fair for ethnic groups in Lanping County. During the festival, the sponsor also invited ethnic performing teams of the Bai and Naxi groups from Lijiang and Jianchuan to stage cultural shows.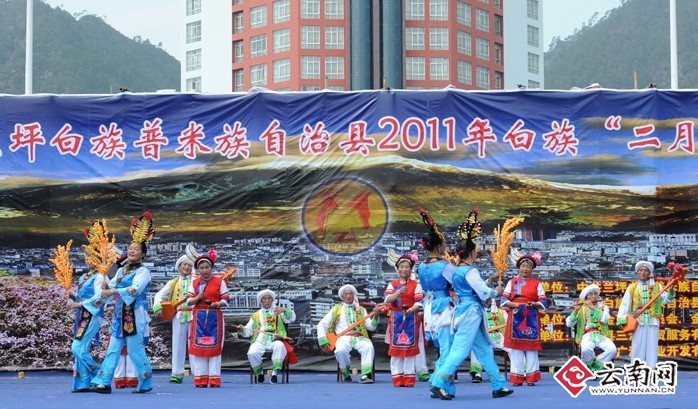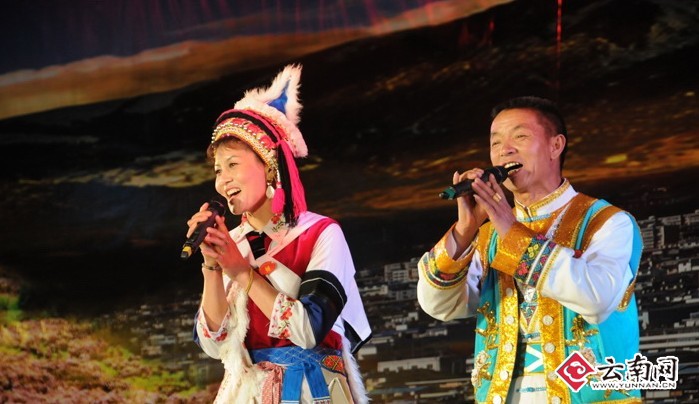 金顶二月会历史悠久,每年农历二月十九日,金顶白族人民聚集在本主庙,搭台唱戏,耍龙舞狮,敲锣打鼓,热闹非凡,祈求新年平安。如今,喜逢太平盛,金顶二月会成了政府组织,群众参与,集文化娱乐、体育竞技、商贸活动、休闲旅游为一体的重大节日盛会,远近闻名。
2006年新春伊始,金顶镇党委、政府领导班子结合镇情,进一步解放思想,转换观念,决定把二月会更加发扬光大,使之成为全县各族人民弘扬民族文化、招商引资、推动旅游业发展的节日文化品牌,达到"文艺搭台、经济唱戏"的目的。金顶镇党委、政府还成立了二月会筹备小组,邀请宣传和文化部门指导并协助工作,由于认识到位、组织到位、措施到位,使二月会更加充分的展示出了独放异彩的金顶地方特色和金顶底蕴深厚的历史文化以及绚丽多姿的民族文化,得到了各级领导和社会各界、各族群众的高度称赞。
金顶二月会历史悠久,每年农历二月十九日,金顶白族人民聚集在本主庙,搭台唱戏,耍龙舞狮,敲锣打鼓,热闹非凡,祈求新年平安。如今,喜逢太平盛,金顶二月会成了政府组织,群众参与,集文化娱乐、体育竞技、商贸活动、休闲旅游为一体的重大节日盛会,远近闻名。
2006年新春伊始,金顶镇党委、政府领导班子结合镇情,进一步解放思想,转换观念,决定把二月会更加发扬光大,使之成为全县各族人民弘扬民族文化、招商引资、推动旅游业发展的节日文化品牌,达到"文艺搭台、经济唱戏"的目的。金顶镇党委、政府还成立了二月会筹备小组,邀请宣传和文化部门指导并协助工作,由于认识到位、组织到位、措施到位,使二月会更加充分的展示出了独放异彩的金顶地方特色和金顶底蕴深厚的历史文化以及绚丽多姿的民族文化,得到了各级领导和社会各界、各族群众的高度称赞。