Yi ethnic costume festival held in Yongren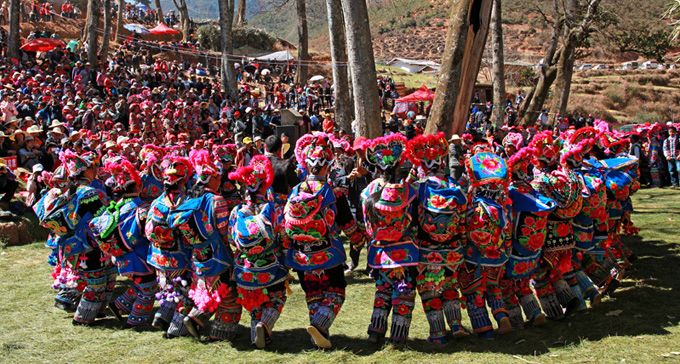 (Dancing in the traditional Yi ethnic outfits)
When many parts of Yunnan Province were soaked in the festive ambiance of the Lantern Festival on 24 February (lunar 15 January), the Yi ethnic members of Zhiju Village of Yongren County were busy with a special "fashion show" of their own—the costume festival or contest.
The costume festival has enjoyed a long history in Zhiju Village of Yongren County's Zhonghe Town, Chuxiong Yi autonomous Prefecture. Spent annually on lunar 15 January by the Yi ethnic people, it is a very important event for the Yis--especially young girls (Lipo in the Yi ethnic language) who get dressed early in the morning and throng into the fairground.
Conventionally, each Yi ethnic village near Zhiju has its own delegation and all the must-wear traditional costumes are embroidered by the villagers themselves. When the event is announced to kick off, participants are seen staging "fashion show" and assorted cultural performances with the accompaniment of musical instruments such as Lusheng instruments and trumpets.
At the events, different colourful embroidered wears bring a scene of grandeur, from the head to feet. It's said that, by showing the workmanship of the costumes, Yi ethnic young girls are deemed as the most diligent, most beautiful and most preferred by Yi boys (Li'me in the Yi ethnic language).
Travel tips
(1)-The rugged village of Zhiju is 15 km from the local council of Zhonghe Town which is about 58 from Yongren county seat of Chuxiong Yi Autonomous Prefecture.
(2)-Travel route: Kunming--Yongren (county seat)--Menghu Township--Zhonghe Town--Zhiju Village