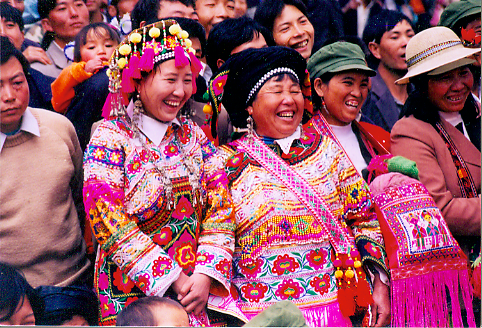 The township of Tiesuo of Dayao County is home to more than a dozen nationalities, of whom 72.8% are ethnic minorities such as Yi, Dai, Miao, and Bai etc.
Around the day of Winter Solstice, people living on both banks of the Jinsha River (Yangtze River) will be in their holiday's best, getting together to celebrate the "winter street" festival which is one of the major ten ethnic festivals in Dayao and lasts three days.
In the daytime, a trade fair dominates the festival; but when the night falls, people will put on lots of performances--dancing around bonfires, singing, and playing Sona instruments, Lusheng instrument and flutes etc.
And when the festival draws near, all the local families will prepare food such as Ciba (glutinous rice cake) to entertain guests--the rice cake will be baked on a fire pit and go with honey.
Tips
Tiesuo Township is about 100 km from the county seat of Dayao.