Shopping around Erhai Lake is a must-do thing for tourists to this city.China's southern Yunnan province is well-known as a tourist destination for its subtropical landscapes and the mysterious legends of the local Bai nationality. Among the many handicrafts that the Bai people inherited from their forefathers, tie-dye fabrics, or coloring cloths, have been turned into one of the most profitable businesses.
Tie-Dyed Cloth
Tie - Dyed Cloth of DaliTie-dyed Cloth is generally called "Colorful Tied - Cloth". It was an ancient skill of dyeing originating from the interior of China.
The materials used are white pure cotton or white fabric of cotton and flax. The colorant of dyeing is indigo - blue extracted from dyeing -yielding herbs. The procedures include designing, painting, tying with thread, dip - dyeing, removing thread, poaching and trimming. Blue and dotted with white flowers, the cloth looks elegant and vivid. The patterns of the cloth are usually the ordinary flowers, birds, insects and fish.
Tie - Dyed Cloth of DaliNow, Zhouchen in Dali Town has become the main producing place of the cloth.
The characteristics of the production are that the cloth is distributed to individual families in which the procedure of ty-ing with thread is done. Then they are collected back for dyeing and other procedures.
The tie- dyed cloth is used to make clothes, caps, bags and so on. These products are very popular among domestic and foerign visitors and are therefore exported to Japan and Southeast Asian countries.
Bai Ethnic Paper-cuts
Paper-cut is a fine art form throughout China either for the Han Chinese or most of the ethnic minorities. In the southwestern Yunnan Province, ethnic minorities that are known for paper-cuts include the Bai, Dai, Naxi and Yi etc.
Bai Ethnic Paper-cut
Bai ethnic paper-cut is a traditional craft in Dali area with a long-standing history. Haidong Town of Dali City is the most famous in this regard. The paper-cut there is distinctive with a wide public background.
Most of paper-cut artworks in Haidong are used for decorations. Patterns on them vary a lot, including: Carps Jumping over the Dragon Gate, Lu He Tong Chun (Deer and Cranes), Dual Blessings (Shuang Xi Lin Men), and Peony Flowers etc. These works are also used as moulds for making embroidered aprons, shoes, and children hats.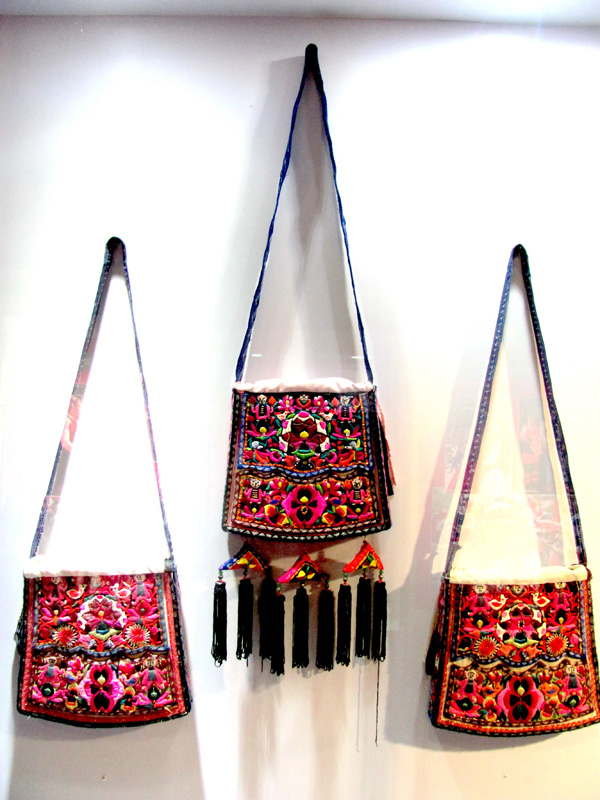 Bai Ethnic Satchel
Embroidered bags of this cuboid-like kind are popular among the Bai ethnic people in Er'yuan County and Dali City. Traditional patterns embroidered on them include lotus flowers, fat infants, birds and many other auspicious tokens. Most of Bai ethnic satchels are also decorated with sachets.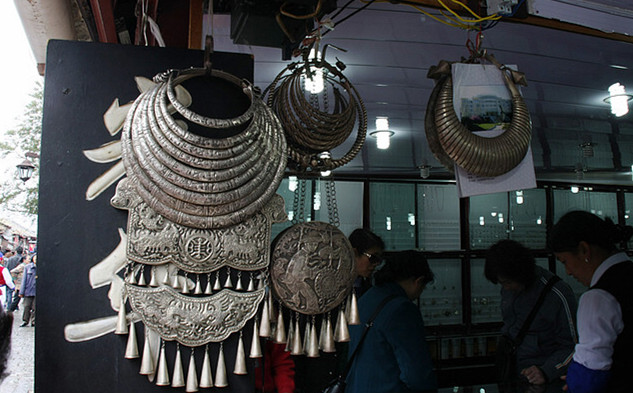 Silver and Bronze Ware
The silver and bronze ware is very famous in Dali. The local Bai people are specialized in making these metal wares. The category of the silver and bronze wares covers ring, necklace, earrings, bracelet and hairpin. All of these wares are made with the traditional skill and the authentic materials. If you are interesting in the folk accessories, you can buy some.