Popular Activities
Xishuangbanna is a place full of ethnic national breath. The people here lead a harmonious and peaceful life. Various activities and celebrations bring a lot of vitalities and fun to them. When the local festivals fall, all the people, young and old, will get together to perform the local songs and dances, such as the Dai New Year on April 14, the water-splashing festival on April 15 and the door-opening festival on December 15 in Dai calendar.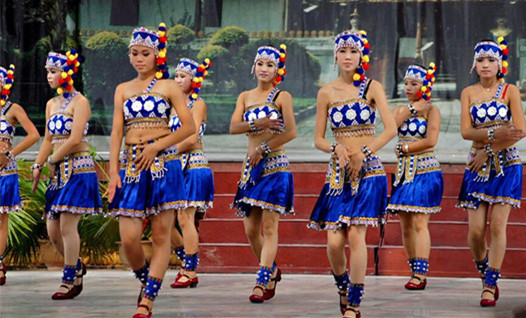 Night of Lancang-Meigong River -- A Party of Campfire
Party of Campfire will be held every night in the Manting Park from 20:00 to 22:00, in which several hundreds tourists join. It highlights the song and dance, special costumes of six ethnic majorities around Xishuangbanna. A lot of food, including fruits, barbecue and buffet dinner are provided in the park. Meanwhile, tourists can dance with the performers around the need fire and join in some interesting folk games.
Lancang River, Xishuangbanna Travel, Xishuangbanna Guide Lancang River, Xishuangbanna Travel, Xishuangbanna Guide
Other Entertainments and Activities
Mengbalanaxi Culture Show
Travelers might not have enough time to see all nice aspects of Xishuangbanna, nor so many chances to experience traditions and culture of all ethnic groups, to watch a culture show may help you learn more about our region. With flowery light effects, colorful costumes, beautiful stage designing and well-organized performance, Mengbalanaxi Culture Show is your best choice for evening time. From different angles, it presents the history and story about Xishuangbanna, also festival, culture and belief of local ethnic groups and our neighbors living along the Mekong. Mengbalanaxi is a word from Dai language, meaning mysterious and beautiful hometown, truly, from show audience can feel the deep love local people cherish for the land that is nurturing them. If not with too artistic or choosy eye, this show is worth spending some time. Culture Show starts daily at 20:10, lasts 1 hour and 40 minutes, price of ticket: 180 RMB for normal seat, 280 RMB for VIP seat.
Nightclubs
Shengtaile Club
Tel: 0691-2271669
Location: Suburban of Jinghong City
E-age Bar
Location: Mengpeng Road, Jinghong City
Jingle Bar
Location: Lancang River Road, Jinghong City
Fire Club
Telephone: 0691-8981297
Location: ground floor of the Electronic Product Store, Jinghong City