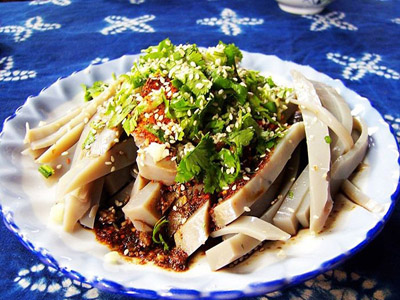 Zhaotong snacks - dilute soybean meal
If a foreign friend Zhaotong want a taste of the most characteristic early, you will take him to eat what? If me, quasi-dilute soybean meal to eat with him. Dilute soybean meal as a place characteristics Zhaotong snacks, has been Zhaotong people of all ages.
At Zhaotong, only in the morning in order to eat lean meat. Early in the morning, as long as you stroll the streets to visit, it is evident that people here love to dilute the level of the soybean meal. Them the many streets and lanes of stalls selling dilute soybean meal,them on the stove a mouth filled with a thin powder of the cauldron, which is far and you will be able to see the "cuckoo", braving the heat. Stalls of the table has a steady stream of people, they, or the old or less, or male or female, regardless of spring, summer, autumn and winter, this scene you can always see.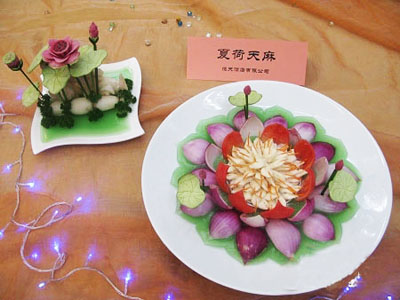 Looking for a stand down, called out "to a bowl of flour", the boss will immediately be put have put a bowl of buckwheat soybean meal ended thin skin in front of you, the table box containing chilli sauce noodle pepper , have a bowl of well-cut scallions, you can do with their own tastes of any transfer, at this time you must have long coveted, and a bar to drink it as soon as possible! that scalding hot, good feeling, really very good!

However careful you can Oh, the tongue should not be hot. Temporary solution of the greedy, you want up to the boss just burn, soak in dilute soybean meal, the outside crispy inside loose, soft sweet, then Taste really beautiful! Have a best eat, is to allow first oil boss put off baked buckwheat fried skin look, fried buckwheat-off skin becomes crisp, then again while it is hot scoop on dilute soybean meal , accompanied by the kind of diffuse sound off of the flavor, but also drew you a mouthful of saliva. After eating, chances are you will be beating a bowl to the boss yelled abuse: another bowl!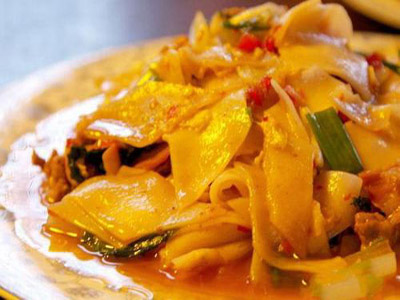 You would ask me such a delicious thing is how you make out? Let me teach you Tips you. Must select the superior do put it into a pea pea powder, when to eat, use a pot of cold water Sheng, put a few spoons pea flour to make it bubble open, and then put some ginger tablets, you can put on a small fire to cook slowly, and to be boiled after use chopsticks kept stirring. Finally paste, soybean meal is rare to do a good job. Always want to eat lean meat baked some Huiqiao skin, put a pan heating, tune into some good Tartary Buckwheat paste, then quickly put into a thin paste shared skin, use text火烙do , but should not effect rice crust, water and gas to be worked, then put it out into the wide silk, let cool and thin after the consumption of soybean meal together.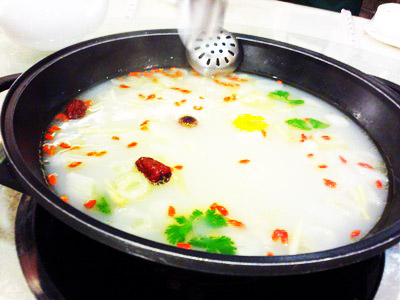 Lean meat is not only delicious, but rich in vegetable protein, because it is liquid-like food, so can easily be absorbed, it is the case, it has become the ages of food. I think, as a feature Zhaotong snacks, give me introduce You must correct.

Zhaotong Steamed-Pot Chicken with gastrodia elata blume
Zhaotong Steamed-Pot Chicken with gastrodia elata blume is a famous local specialty of Yunnan. It is renowned for its unique way of cooking, fragrant aroma and rich ion.
In the old times , there used to be a restaurant famous for its steam potted chicken. Later they created a new variety with gastrodia tuber in the soup, becoming one of the well known local nutritious dishes in Kunming.

Early in the Qianlong Era of the Qing Dynasty, the steam potted chicken became popular among the common people. Jianshui County has a long history in producing the best pottery ware in Yunnan. Pots produced in this county has different shapes and forms.
Steam - Pot Chicken became popular in southern Yunnan during the reign of Emperor Qian Long of the Qing Dynasty. Jianshui County is famous for pottery products. A craftsman named Yang Li created a special steampot with an empty pipe in the middle. When chickens are steamed, they are put in the pot with some ingredients and covered. Then the steampot is put in a larger pot filled with water. The chicken is cooked by the steam, and the steam gathers and combines with the chicken in the steampot. Therefore the chicken is tender, delicious and nutritious.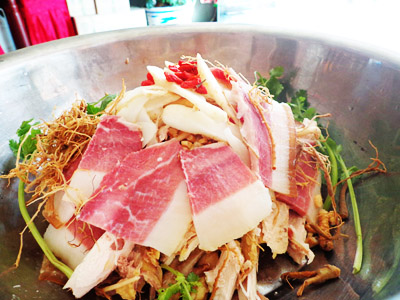 The steam pot has a hollow tube fixed in the center, up to the height of the pot. Food including the raw chicken pieces, ginger, salt and so forth are put around the tube and the pot is placed onto a bigger pot with boiling water underneath. Steam will come up from the small hole in the middle to heat the food in the pot. The Chicken will be ready about three or four hours. The same method is used to cook other food and will increase the flavor of the dish.