Bailuo Branch Of The Yi People
Bailuo, a branch of the Yi ethnic minority, is what the locals call the Yi people in Xinzhai Township of Malipo County. Their costumes differ remarkably from those of other Yi branches in Yunnan Province.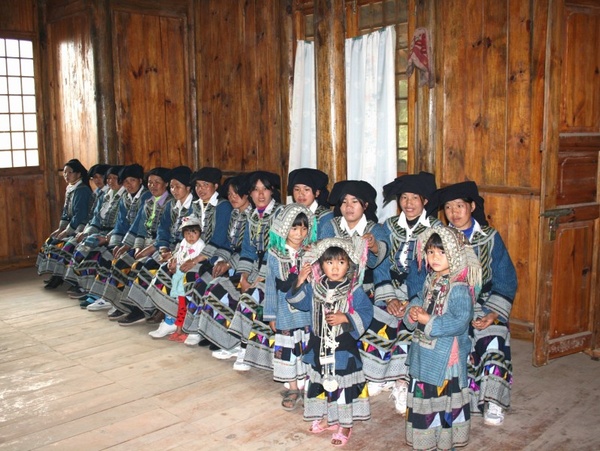 Xinzhai is a Bailuo ethnic village seldom known to the outside world in Xinzhai Town, Malipo County, Wenshan Miao and Zhuang Autonomous Prefecture.
All the villagers are Bailuo ethnic members who have led an exotic life different from other branches of the Yi. During the May Day Holiday in 2006, I took a spontaneous photo tour with two Western photographers to the village named Xinzhai about 8 km from Xinzhai Township that has left many memories behind. The hamlet is nestling in lush woods, and many very old trees are growing around the vintage-style village; all the residences there are the type called "gan lan shi" (houses on stilts) in Chinese architectural jargon.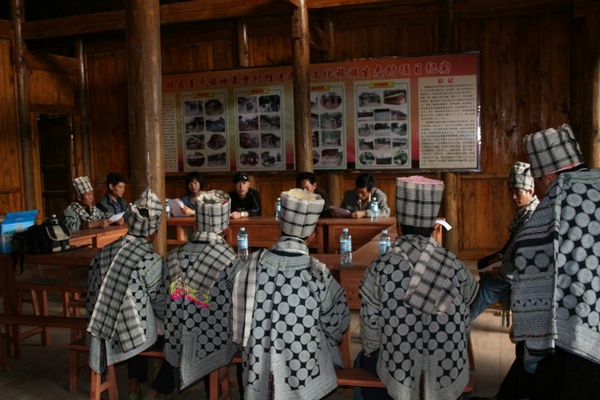 It is hard to expound when the village was first built. But Mr Zhao Wenlu, the chief of the culture office of Xinzhai Township, told us that the Bailuo people had only spoken language so when their ancestors moved to this area remained mysterious, and what they had known was just that their ancestors moved from Kunlun mountainous region because of natural disasters.
Most parts of our journey to Xinzhai Township were managed on a bumpy road. But luckily the Xinzhai Village was only 30 minutes of driving from the town. When we arrived, the village chief was very happy because Zhao had called him, telling him some guests would visit the village. The chief let us in a big old house, showed us around, gave many details about his village, and called some ladies and kids to dress up for pictures. Houses there were very unique, old and impressive with big pillars; each house was a two-storeyed building, with the ground floor for livestock, and the upper floor for people to live in.
When the dressed-up ladies showed up, the chief did a lot of cooperative efforts in our favour, because we had gotten a tight agenda and told him beforehand what we intended to do. Several cameras got to work on a fairground at the centre of the village. In on sense, I found nearly all the villagers were out there, old grandpas, grannies, kids……observing the two Western strangers with me. Foreign tourists always told me before: "Local people are more interested in us than we do when we are visiting a place". It is absolutely true.
We liked their costumes very much, and were told all the clothes, embroideries had been made by hand themselves. For little girls, the scarf-like headwears are very cute. It is said that for an outfit of a girl, the parents have to ask a craftsman to design and make silvery ornaments which include necklaces, buttons, bracelets and other decorations. "Girls traditionally begin to learn embroidering skills from their mothers at a young age," Mr Zhao said. "The more beautiful and exquisite the costume or embroidery is, the higher praise the girl will receive. Needling and embroidering is a criterion for judging girls inside the tribe."
The dietetic tradition
The Bailuo people have their own unique ethnic customs. Like the Zhuang and Buyi ethnic people in Wenshan and Qujing, they prepare dyed rice (coloured rice) at festivals and celebrations. But the colour of the rice depends on what festival is spent; for example, multi-coloured or blue rice for the Spring Festival, while yellow for the "buckwheat festival". And when the family has guests, women do not eat with men on the same table.
Tips
(1)-Malipo county seat-120km-Xinzhai Township-8 km-Xinzhai Village;
(2)-Another similar but larger Bailuo ethnic village is in Donggan Town.