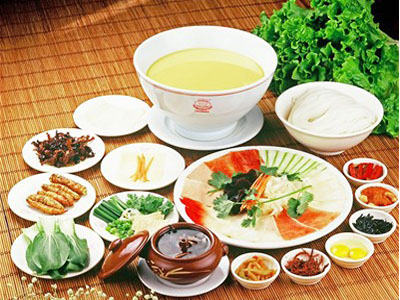 Nanhu(South) Lake and Cross- Bridge Rice Noodles

Having originated in Mengzi County of Southwest China's Yunnan Province, the Rice Noodles Crossing the Bridge dish boasts a history of more than 100 years. With continuous renovation by chefs specializing in Yunnan Cuisine , the dish has enjoyed growing fame both at home and abroad, and every visitor to Yunnan should definitely try the famous snack besides taking in the breathtaking natural scenery.
There is a beautiful legend concerning the birth of the rice noodles. Legend has it that South Lake(Nanhu Lake) in Mengzi County once boasted extremely beautiful scenery, where a great many literary scholars would work hard to become an official. One of them was a Xiucai (person who passed the imperial examination at the county level in the Ming (1368-1644) and Qing (1644-1911) dynasties) surnamed Yang.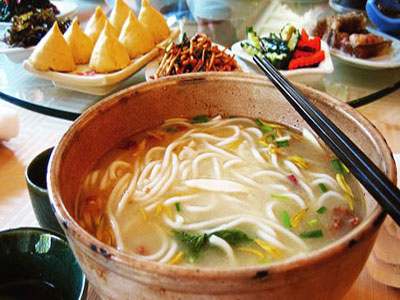 Cross-Bridge Rice Noodles originated from Mengzi County, and has a history of more than 100 years. It is said that in Mengzi, there was a small island in a lake called Nanhu. A young man stayed there getting prepared for the national examination. Every day his wife had to pass a bridge when she brought him the meal. But the meal had turned cold by the time she got there. One day, the wife cooked a pot of chicken soup and happened to see that the layer of oil on the soup could keep the soup wanm. And when she put raw slices of fish and meat into it, they were done instantly, and were very delicious. From that time on, she took the soup, meat and rice noodles, crossed the bridge to bring the meal to her husband.

Her husband could have a warm meal every day, hence the name "Across-the-Bridge Rice Noo­dles". It has been more than 80 years since the Bridge - Crossing Rice Noodles spread to Kunming. Nowadays, it is a favourable local food for both domestic and foreign guests due to its excellent material, elaborate preparation skills, unique serving method as well as its rich nutrition.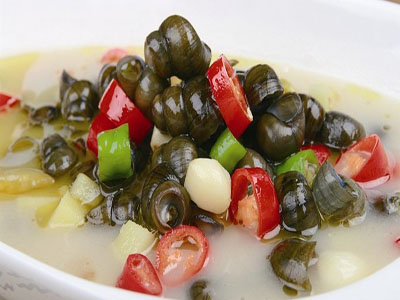 Yang often went to read books at the pavilion located in the middle of the lake. Although his wife would always take him something to eat, Yang was always so deep into his studies that he often forgot to eat. By the time he would remember, the food had already become cold, and thus his health deteriorated.

One day, much concerned about her husband, the wife killed a hen, and cooked it in a pottery pot. Then, she took the chicken and soup to her husband. After a while, she came back to clean up. However, what she saw was the food left untouched by her husband who was intently concentrating on his book.
With a sigh, she decided to heat it for her husband to eat later, but to her surprise, the pot was still warm when she touched it. Uncovering the pot, she found a layer of chicken oil floating atop the soup, which, together with the pottery container, helped preserve the heat. From then on, she cooked in this way to keep the food warm, and her husband was always able to eat warm food.
Later, many people cooked rice noodles in the wife's innovative way, and found it really delicious and fresh. Since Yang had to cross a bridge to reach the pavilion in the middle of the lake, the rice noodles cooked in this way was named "Guoqiao Mixian " (literally "Rice Noodles Crossing the Bridge").
The rice noodle dish contains three parts: the soup, any kind of sliced meat, and rice noodles and fresh vegetables.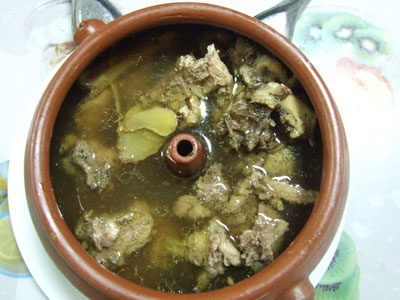 The soup is cooked in a delicate way. First, the ingredients are carefully selected. Usually, fat hens from nearby Wuding County, or local old ducks or stewed pork ribs are used. Then, ingredients and water are added in strict proportion, and then cooked with the stove turned to the highest degree. Once the mixture is boiling, the foam atop the soup is skimmed off, and the stove is turned down a little bit, for the soup to stew for some time. When ready, the soup is flavored with condiments, such as salt, gourmet powder, and pepper powder. When the soup is scooped into bowls, chicken oil is added, to keep the soup warm.

Meat slices fall into different kinds. The most popular and also the least expensive kinds include white meat slices, ham slices and kidney slices. The more superior as well as the more expensive kinds include snakeheaded fish slices, squid slices and chicken meat slices. Generally, the grade of meat slices determines the quality of the rice noodle dish.
Apart from meat slices, fresh vegetables and other ingredients, such as peas and hotbed chives, are also used. As the soup's temperature is generally above 80℃, the Rice Noodles Crossing the Bridge dish should not be tasted immediately after it is served.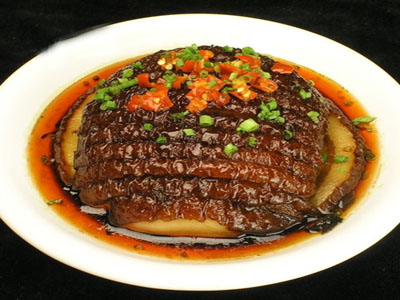 With a strongly local flavor, the snack can be made and seasoned according to each eater's likes and dislikes. Self-making means every eater can choose to add half-cooked meat slices, vegetables, and rice noodles as he likes to the soup warm enough to fully cook them. After the dish is cooked, people can then spice up the dish to their liking by adding the various condiments laid out on the dining table, which is so-called "self-seasoning".

The tasty soup, with its tasty and fresh meat and vegetables, is suitable for people, young and old, men and women, from all over the country as well as from all over the world. So the next time you're in Yunnan, why not have a try?
【Jianshui Roast Tofu】
Jianshui tofu cubes, handmade by women ranging from girls to the elderly, provide a similarly delightful spectacle, moulded with prodigious speed and uniformity using a simple cheese cloth. Whilst wandering this lane, stopping regularly to peer in on more women at work, we spoke with a local who invited us to observe the process at his neighbor's factory, located in a narrow building that, from the outside, could easily pass as another home. Outside, a leper was begging, a horse drawn cart was filled with leafy greens freshly picked from the fields behind the street. At Mr. Sou's factory, we were shown the vats in which the soy beans, imported from Shandong, are soaked overnight. They are then ground into the soft tofu-like matter which we consumers recognize. From small buckets of this soft cooked tofu, the shapers take small handfuls, adding them into the cheesecloth, which they then wrap around and squeeze, removing excess water.
【Fried Bamboo Worms】
Bamboo worms, also known as bamboo bees and bamboo maggots, refers to a kind of parasitic insect living in bamboo tubes. Their principal food is fresh bamboos. They will hide at the root of bamboo tubes after eating up the whole bamboo. They will become fat and stop to eat in November, which is the best season to eat bamboo worms, because the worms will become pupae later. All the Hani ethnic group, Zhuang ethnic group and Bouyei ethnic group like to eat bamboo worms and good at catching them. If the top of bamboos become yellow, they will slice the bamboo cane to catch bamboo worms. Bamboo worms are very delicious after frying. They have high protein content and is a delicious dish to go with wine.
【Shiping fried fish】
Shiping County's fried fish is always exaggeratingly called "ba mian jian yu" which means the fish is fried "on eight sides". As a signature delicacy, it is a decent course of dish for banquets of all sizes, and the fish are mainly carps and crucian carps raised in local fresh waters.
【Stinky Tofu in Jianshui County,Honghe】
Smelly tofu is made of high quality soybeans containing high protein, under a series of processes such as immersing, grinding, leaching, halogen treatment, initial fermentation, pickling curing, juicing and final fermentation etc. During the process of initial fermentation to the final treatment, proteins contained in tofu are decomposed by proteases with the sulfur-contained amino acids fully hydrolyzed to form a compound called H2S. That's why the smelly tofu smells stinky. Moreover, with the decomposition of proteins, tasty amino acids will come into being.