Liuku is not a tourist destination. It is a transport hub that is necessary to pass through to head north up the Nujiang valley. This city, however, is very clean and pleasant. It is a relaxing place to stop over for a few days. There are many ethnic and folk crafts in Liuku town. Such as the Meat Wine and Egg Wine (肉酒和蛋酒), Musk Deer and Musk (麝香鹿和麝香), Dulong Carpet(独龙毡毯), Crossbow( 弩), Wagu Tea(瓦姑茶), Nu Women Waist Decorations(怒族女子腰饰), Lushui Chu Wine(泸水杵酒) and so on. Visitors can go shopping and have fun there.
Meat Wine and Egg Wine (肉酒和蛋酒)

Meat wine and egg wine is well brewed wine, fresh with faint scent. It is a kind of dietetic foods, which has good curative effect on building up vital energy and nourishes the blood. So it is a favorite advanced nourishing food for the Nu Nationality.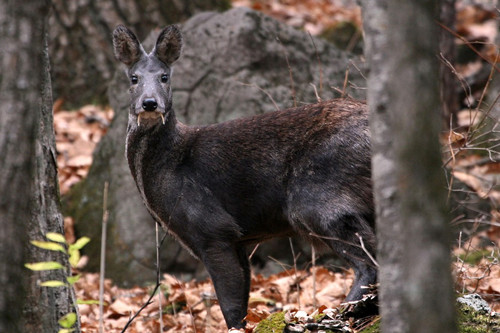 Musk Deer and Musk (麝香鹿和麝香)

Musk deer is a kind of rare wild animal in Nujiang Lisu Nationality Autonomous State. The musk has fore limbs, long hindquarters, small hoof and big ears. Both male and female musk have no horn. On color of the musk is brown, the color on the back is darker. Some has dust color with some unobvious dust yellow stripes and spots. The secretion of the male musk's musk gland can be dried up to make into a kind of rare precious medicinal materials, Musk, which is also a kind of precious spice. The output of musk in Yunnan Province is number four in China, and Nujiang's output is the most in Yunnan Province.
Dulong Carpet(独龙毡毯)

Dulong carpet is a handcraft made by Dulong women. The raw materials are wild hemp and home-planted hemp. People twist the hemp into strings and dye them with different colors liquid, which are made of various plants. Dulong carpet is durable and rain-proof, which can also be used as mat or quilt. To make an elegant Dulong carpet needs more than ten processes including peeling hemp, spinning, design, making woofs and leading abb etc., and they need various tools to finish these processes. Nowadays, it is a kind of traditional costume for Dulong people to wear a piece of elegant Dulong carpet. The handcraft carpet may be very expensive.