The particular South food is usually characterized by a new severe weather, hot within summer months along with bitterly cold within winter season. Your almond seriously isn't expanded in this region, ingrown toenail and whole wheat are classified as the most applied cereal. In Liuku town, you can enjoy the special dish with unique ethnic flavor such as the Shiban Baba(石板粑粑), Pickled Bamboo Shoot(酸笋片), Vinegar Wine(醋酒), Chu Wine(杵酒), Boji Rice(簸箕饭) and so on.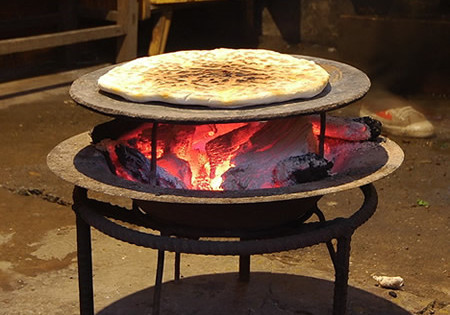 Shiban Baba(石板粑粑)
A thick, round, heavy bread, either prepared plain or with various fillings.
Vinegar Wine(醋酒)
This kind of wine contains 17% to 18% alcohol. Taste faint scent and full of nutrition. It can refresh and stimulate appetite, so it is an important beverage for the local Lisu nationality. Recently, the local people give the vinegar beer a funny name, Canyon Beer.
Pickled Bamboo Shoot(酸笋片)
Pickled Bamboo Shoot is kind of green tender bamboo shoot growing in the mountain. The way of preparing the food: at the beginning of summer, dig out the shoot, peel the outside husk and cut it into slice and then dry it in the sun to be dried vegetable (in Dulong'slanguage, it is called meihao). Before eating, dip the dried vegetable in hot water to fry meat or make soup, which taste fresh and smooth. To make pickled bamboo shoot, you need fritter the fresh bamboo shoot and pound until the bamboo shoot becomes soft. Put it into a section of thick airproof bamboo and heal with a Chinese banana leave. Then dip it in a springlet to leaven the bamboo shoot to ferment. Take the pickled bamboo shoot and dry up to make picked bamboo shoot soup, which is good for getting rid of sunstroke and satisfying thirst. Pickled bamboo root is a perfect summer soup.