The particular South food is usually characterized by a new severe weather, hot within summer months along with bitterly cold within winter season. Your almond seriously isn't expanded in this region, ingrown toenail and whole wheat are classified as the most applied cereal.In Shuangjiang you can enjoy the special dish with unique ethnic flavor such as : Bean Powder Rice Noodle (豌豆粉米线)Chicken Mashed Rice( 鸡肉烂饭),Pineapple Purple Rice(菠萝饭),Fragrant Straw Grilled Fish(五香草烤鱼),Grilled Fish in Banana Leaves Package(布朗族包烧鲜鱼),Pickled Bull Tendon(牛筋肉)and so on.
Bean Powder Rice Noodle 豌豆粉米线
This special local snack of Shuangjiang uses good quality rice noodle and pea powder as major material and is seasoned with sesame, ginger, chili oil, garlic mash and sauce etc.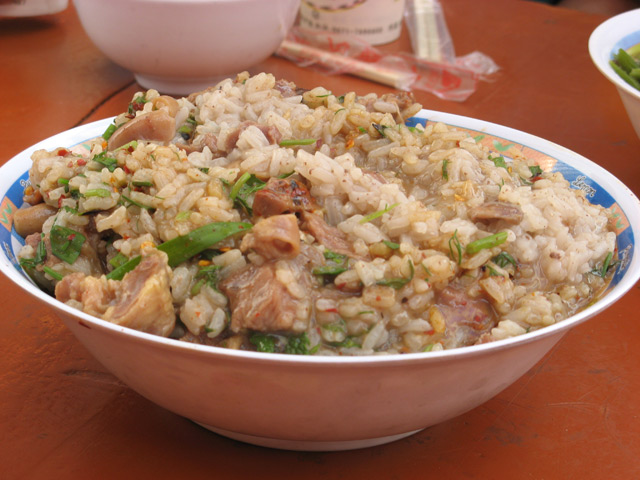 Chicken Mashed Rice 鸡肉烂饭
Called Moniyaburao in Wa dialect, this special rice food is a great Wa dish in Shuangjiang County for welcoming distinguished guests. Viewed both as a dish and a sort of staple food, it is softer than ordinary rice and drier than porridge. Two preparation methods – Hand Tearing Chicken Mashed Rice Method and Knife Chopping Chicken Mashed Rice Method are often applied. The two cooking method are very unique and have much in common. The newly harvested rice is stewed in a pot together with tender black bone chicken, many seasonings and vegetables like fennel leaves, green pepper, hot chili, Ahwa cilantro, shallot, garlic and mint are added to the rice. The ready mashed rice is bright in look and soft, sticky and smooth in taste .
Fragrant Straw Grilled Fish 五香草烤鱼
It is a famous Thai dish for the crisp and tender grilled fish meat Cooking Method:Open a fish from its back and remove the scales and bowels, put such seasoning as coriander, shallot, ginger, green pepper and salt etc in the belly of the fish. Tie the fish with a sort of fragrant straw to avoid the release of the seasonings and spread some lard on the fish. The fish will be ready after it has been grilled above the charcoal fire for a few minutes.
Grilled Fish in Banana Leaves Package 布朗族包烧鲜鱼
It is a traditional Bulang dish known for its freshness and good smell. A fresh fish is opened and stuffed with such seasonings as hot pepper, ginger, cilantro, Bunge prickly ash and salt etc. Then the fish is carefully packed with a huge banana leaf and buried in the burning charcoal ashes for a while. The ready fish is very tasty and fresh.
Pickled Bull Tendon 牛筋肉
It is a very famous Thai dish.Cooking method:Scald the bull head and feet with boiling water and raze off the hair on the skin first, then burn them in fire. After that they are dunked in fresh cold water and razed again. After they are cleaned entirely, they are stewed for a long time until soft. Finally the bones are removed and the remains are minced and mixed with hot pepper, ginger, garlic and other seasonings. It is ready to eat after been preserved in a pottery vessel for about two weeks. Its tender, refreshing and sour taste arouses the eater's appetite.
Pineapple Purple Rice 菠萝饭
It is a unique Thai food. Firstly the purple sticky rice is dunked in fresh water for seven or eight hours and later mixed with minced pork. Then the mixed rice is steamed in a hollow pineapple. The rice is very delicious for it has absorbed the sweet taste and scent of its container – the hollow pineapple. Apart from its delicious tastes, the pineapple rice also nourishes the blood and profits the lungs.