Xiangyun food is famous in Yunnan even in China. People who take a tour to Xiangyun never forget to taste the food in Xiangyun. As a city having various Chinese ethnic minorities, the local food is different from the one in other places. All the foods in Xiangyun feature local culture of ethnic minorities, and all the materials are from this place. It is the creation of local people and the work of human wisdom. This article will take you into the local life to discover the stunning food in this Yunnan city.All the foods talked about below are the representatives of local food and the essence of local food culture. They are also the top recommended ones to tourists who will be or have been in Xiangyun.
Shanzhu Guhua Fish
Guohua fish doesn't mean a certain fish only, which live in the rice paddy in summer and autumn. When the flowers of rice float the joss-stick, they are also mature in the rice. They are fatty and fat, the meat is delicate and the bone is soft. At this time, the people need to lift a colorful plastics bucket only, take a green bamboo basket, trample the curved grass, push aside in the field, and lead the basket along with the farmland water, the Guhua fish are in the basket.
Take them to house, use the spring in the deep well to clean, fry the both sides is yellowish brown in pot, chase the boiled water" the intense fire with soup", the folks call" the thunder rolls the pot". Use the sauce seasoning of the red bayberry of the household-use soil a cook system of the east mountain Yi, and take with the local green pepper silk, add the big spring onion and thin ground corianders that become the segments again, it makes the person's desire drop. Only in the year of abundance rain water, the rice food bumper harvest there are just may Guhua fish, so tasting Guhua fish, in fact also is to taste the abundant joy.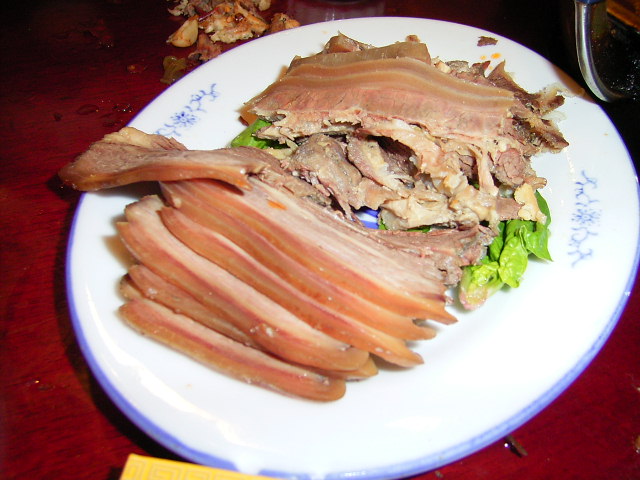 Donkey Meat
There is a old saying, "heavenly dragon meat, underground donkey meat."Fine cooked,high protein,low fat,high amino acid,low choles.
Dairy Fans
A local food made from both milk and yoghurt, which is shaped into a fan form after the ingredients mixed together.
Er Kuai
Er Kuai is one of the most conventional e being molded into various lumps, slices and shreds. It is usually grilled over burning charcoals with a sugar, walnut, or sesame fillinglocal foods, a rice-based dish. The rice is first washed, soaked, stewed and then mashed into a paste, befor.