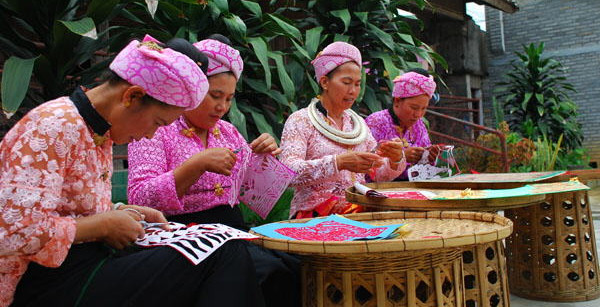 Paper-cut is a fine art form throughout China either for the Han Chinese or most of the ethnic minorities. In the southwestern Yunnan Province, ethnic minorities that are known for paper-cuts include the Bai, Dai, Naxi and Yi etc.
Dai Ethnic Paper-cut
Dai ethnic paper-cut mostly circulates in Luxi City (nowadays Mangshi City) of Dehong Dai and Jingpo Autonomous Prefecture in Southwest Yunnan.
Paper cutting originates from the making of paper sutra flags used in religious ceremonies; it was further enriched by Buddhist culture and Central Plain Culture, and was perfected to serve (Buddhist) sacrificial ceremonies, obsequies, wedding ceremonies and even domestic decoration.
In Dai ethnic villages of Mangshi City, most Dai members are adept in paper cutting used as embroidery moulds, door decorations, lanterns, sutra flags and sacrificial offerings, and patterns included are plants, birds, animals and all sorts of geometric designs.