Geographical Location
Changning County(昌宁县) is located in western Yunnan Province, taking the names of Baoshan (Yongchang永昌), and Fengqing(Shunning顺宁)for the county in 1933, which belongs to Baoshan City. It is a young multi-ethnic mountainous agricultural county, located in the junction of western Yunnan Dali, Lincang and Baoshan. It has a mountainous area of 97.05%. Located in eastern longitude 99 ° 16'-100 ° 12 ', northern latitude 20 ° 14'-25 ° 12', to the east of Fengqing, west of Longyang District, Shidian County, south across the river with Yongde County, north of Yongping, Yangbi, Weishan County, with highway 214 cloud Paul II passing through it.
Introduction

Changning county is 114 km from Baoshan, most areas of it are suitable for rice, corn, wheat and other food crops growing, 70% of the eastern and central mountainous areas is the cool, Mid-levels suitable for the cultivation of tea, walnut, 20% of the south and west areas is low temperature, warm valley area suitable for the development of sugar cane, planting watermelon, banana, mango and other subtropical fruits. The forest area of the county is 71.4% of its total area and it has a forest coverage rate of 39.42%.
Administrative Division

Changning County's jurisdiction is over five towns, five townships, three nationality townships: Tianyuan Town(田园镇), Mangshui Town(漭水镇), Kejie Town(柯街镇), Kasi Town(卡斯镇), Mengtong Town(勐统镇), Wenquan Township(温泉乡), Datianba Township(大田坝乡), Jifei Township(鸡飞乡), Wengdu Township(翁堵乡), Gengga Township(更嘎乡), Wandian Dai nationality township(湾甸傣族乡), Zhujie Yi nationality township(猪街彝族乡), Goujie Yi and Miao nationality township(苟街彝族苗族乡).
Ethnic Groups

9.8 percent of the population is the Yi, Bai, Dai, Zhuang, Miao, Hui and other ethnic minorities.The Changning County Almanac (1990:637-646) lists the following ethnic groups.

Yi: 16,339 persons (1985)
Lalubo subgroup 腊罗拨: Zhujie District 珠街区
Tulibo subgroup 土俚拨 (Han exonym: Tuzu 土族): Goujie District 耇街区
Dai: 5,179 persons (1985)
Guke 姑柯 (Kasi 卡斯)、Wandian 湾甸、Mengcong 勐统
Miao: 4,033 persons (1985)
Zhujie 珠街、Goujie 耇街、Gengga 更嘎、Mengcong 勐统、Kejie 柯街
Bulang: 1,057 persons (1985); autonyms: Puman 蒲满、Benren 本人
Guban 谷板[1]、Zhongzhai 中寨 of Xingu Township 新谷乡, Western Kasi District 卡斯区西部
Shuanglong 双龙[3]、Yingbaizhai 应百寨[4]、Ergou 二沟[5] of Kasi Township 卡斯乡
Baicaolin 白草林、Dachushui 大出水 of Ximi Township 西米乡, Gengga District 更嘎区
Bai: 410 persons (1985)
Erdaoqiao 二道桥,[6] Lanshan Township 兰山乡, Kasi District 卡斯区
Hui: 831 persons (1985)
Mengtingzhai 勐廷寨,[7][8] Mengting Township 勐廷乡, Dabing District 达丙区
Kejie 柯街
Wandian 湾甸
Changning County in Yunnan Province

Changning County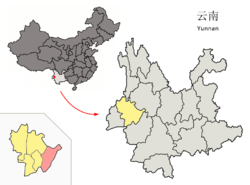 Location of Changning County (pink) and Baoshan Prefecture (yellow) within Yunnan province of China
Country
China
Province
Yunnan
Prefecture
Baoshan City
Area
• Total
3,888 km2 (1,501 sq mi)
Population
• Total
340,000
• Density
87/km2 (230/sq mi)
Postal code
678100
Area code(s)
0875
Website

http://www.yncn.gov.cn