Steam Pot Chicken in Jianshui 汽锅鸡
Steam pot chicken in Jianshui is well-known because of its steaming boiler, especially the pot of purple pottery pot. Usually, the chicken is render palatable by adding condiments various local herbs such as wolfberry, mushrooms, Chinese angelica, and codonopsis. The dish is rich, mellow and nourishing.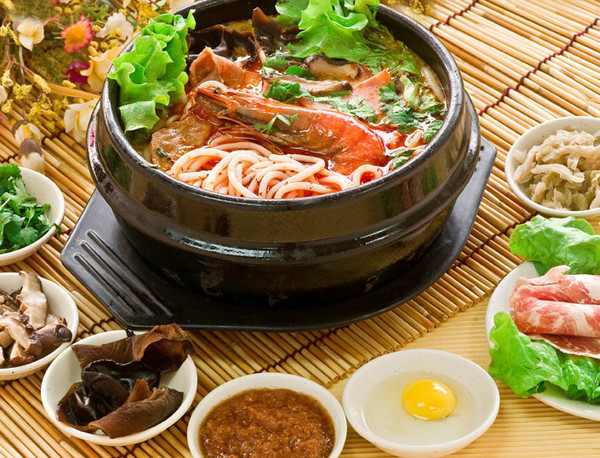 Yunnan Rice Noodles 云南过桥米线
Rice noodles are very popular cuisine in Jianshui. Some people belief that Yunnan rice noodles originally created by local people in Jianshui. The noodles are made from high-quality rice. With big bones, hen, Yunnan ham and other materials, the noodles soup is boiled through gentle heat for more than 4 hours. Besides the rice noodles, this dish also including main ingredients of raw pork fillet, chicken breast pieces, squid, pig offal and squid piece and side dishes of peas tip, chives, coriander, onion, herb bud, ginger, sliced bamboo shoots, boiled bean. The condiments are hot pepper, black pepper, monosodium glutamate, salt ect.; tourists could relish accordingly.
Lin An BBQ Tofu 建水烧豆腐
BBQ Tofu is a well-known snack in south Yunan. It seems ordinary but is very special and delicious. Like durian fruit, a lot of people do not like its smell but love to taste it.
Tofu in Lin An has a long history and well known since Qing Dynasty. The most famous one is Zhou Jia Tofu in west town. The tofu is white and tender, turned to yellow after toasted. The condiments are sweet salty sauce, pepper flour, mashed garlic, MSG ect..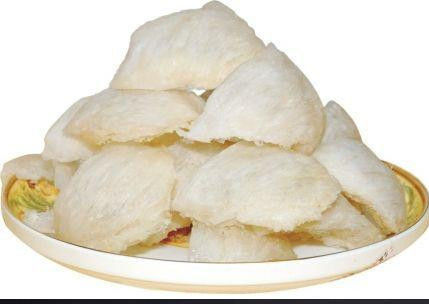 Bird's Nest Pancake 燕窝酥
It is a famous traditional snack in Yunnan. The raw material of pancake is not made from Bird's nest, but flour, lard, and sugar. For the shape of nest, the pancake is called as Bird's Nest Pancake vividly. The snack is so crispy and tender that would be melt once in your mouth, that get a high reputation among gourmets.
Jianshui Grass shoots(Cao Ya)草芽
Cao Ya is a rare artificial cultivation of vegetables, belong to cattail plants, and only grow in Jianshui Yunnan. For the tinny ivory shape, it is also named as Ivory vegetable. The vegetable is nutritious with variety of amino acids. Cao Ya is a necessary vegetable for local cuisine. The popular dishes are Sautéed Cao Ya, Sautéed Chicken with Cao Ya, Cao Ya waist soup and sea cucumber soup with Cao Ya.
Goat dish 羊奶菜
Also known as Yangnai dish羊乃菜, Yangla dish羊辣菜, annual creeping vine wild green plant, because the body shaped like a goat's milk contains a white slurry,it was named. Goat dish shaped like a goat's body contains a white slurry, named for the goat dish,After spring, trees Zheng-rong, goat vine leaf green vegetables. Ailaoshan District goat dishes can be found everywhere. People with sickle to cut it even vine leaves and come home, pick its leaves and fruit (such as weaving prismatic), wash the leaves finely chopped, mix with rice steamed sweet white wine, salt after appropriate place tank, after half edible, slightly sour taste sweet, fragrant smell, cited population greedy, it can increase appetite. Yunnan Jianshui, goat dish is an appetizer which a lot of people must have, pork in particular, are used to configure, but also a rich foods to build water characteristics.