‣ Why begin Luoping Tour
Luoping is a national base for raising bees and proudcing honey products. Early every spring, the blossoming Luoping rapeseed flowers draws flocks of tourists and photographers. Sprawling farmland covered in golden rape stretches right up to the horizon, forming a sea of yellow buds and filling the air with the refreshing smell of spring. In recent years, Luoping Rapeseed Flowers Tour has been popular and enjoyed good fame.
‣ Where is Luoping County
The small town of Luoping lies in the relatively underdeveloped eastern part of the province, 228km east of Kunming, neighboring Guizhou and Guangxi. Luoping is dominated by karst features with small basins among mountain ranges.
‣ Basic Information of Luoping County
• Full Name: Luoping County

• Chinese Name: 罗平县

• Keywords: Paradise for Photograph, Heaven of Rapeseed Flowers

• Location: Qujing City, Yunnan Province, China

• Area: 3025 square kilometers

• Population: 5,400,000

• Zip Code: 655800

• Dialling Code: 0874
Luoping is subtropical plateau monsoon climate, with various types of climate. Luoping County rains often in summer and has a run of wet weather in winter. The average annual rainfall arrives at 1743.9 milimeters and the average annual temperature is 15.1℃. Generally speaking, Luoping County enjoys a moderate climate.
‣ Administrative Diversion of Luoping County
Four towns and three streets are under the jurisdiction of Luoping County: Banqiao Town(板桥镇), Fule Town(富乐镇), Mazhenjie Town(马镇街), A'gang Town(阿岗镇), Luoxiong Street(罗雄街道), Lashan Street(腊山街道), and Jiulong Street(九龙街道).
‣ What to Visit in Luoping County

Luoping Rapeseed Flowers covering an area of 250,000 mu and on February of March every years, thousands of Yellow Rapeseed Flowers are in full bloom, looking like a expanse of golden sea. There are two scenic spot to appreciate the magnificent Luoping Rapeseed Flowers, Niu Street(牛街) and Golden Cock Peak(金鸡峰丛).
Located in 20 kilometers northeast of the downtown of Luoping County, Nine Dragon Waterfall, also known as Jiulong Waterfall, is the most famous waterfall in Jiulong River.

There are approximately 40 waterfalls along the bed of Duoyi River which is about 12 kilometers long. The bamboo raft on the river, the bamboo groves, trees, houses and waterwheels on the both bandks of the river present an idylic setting.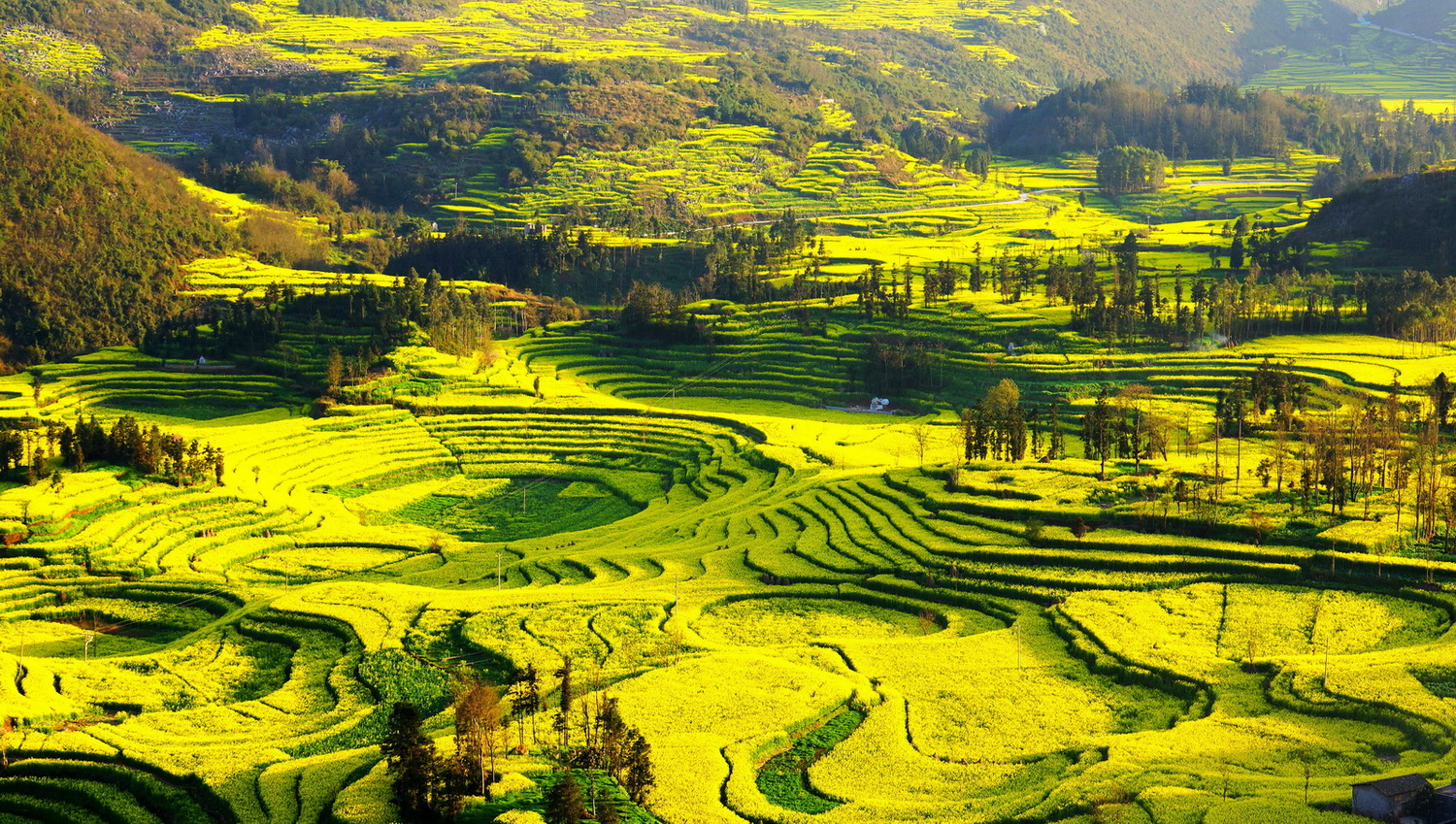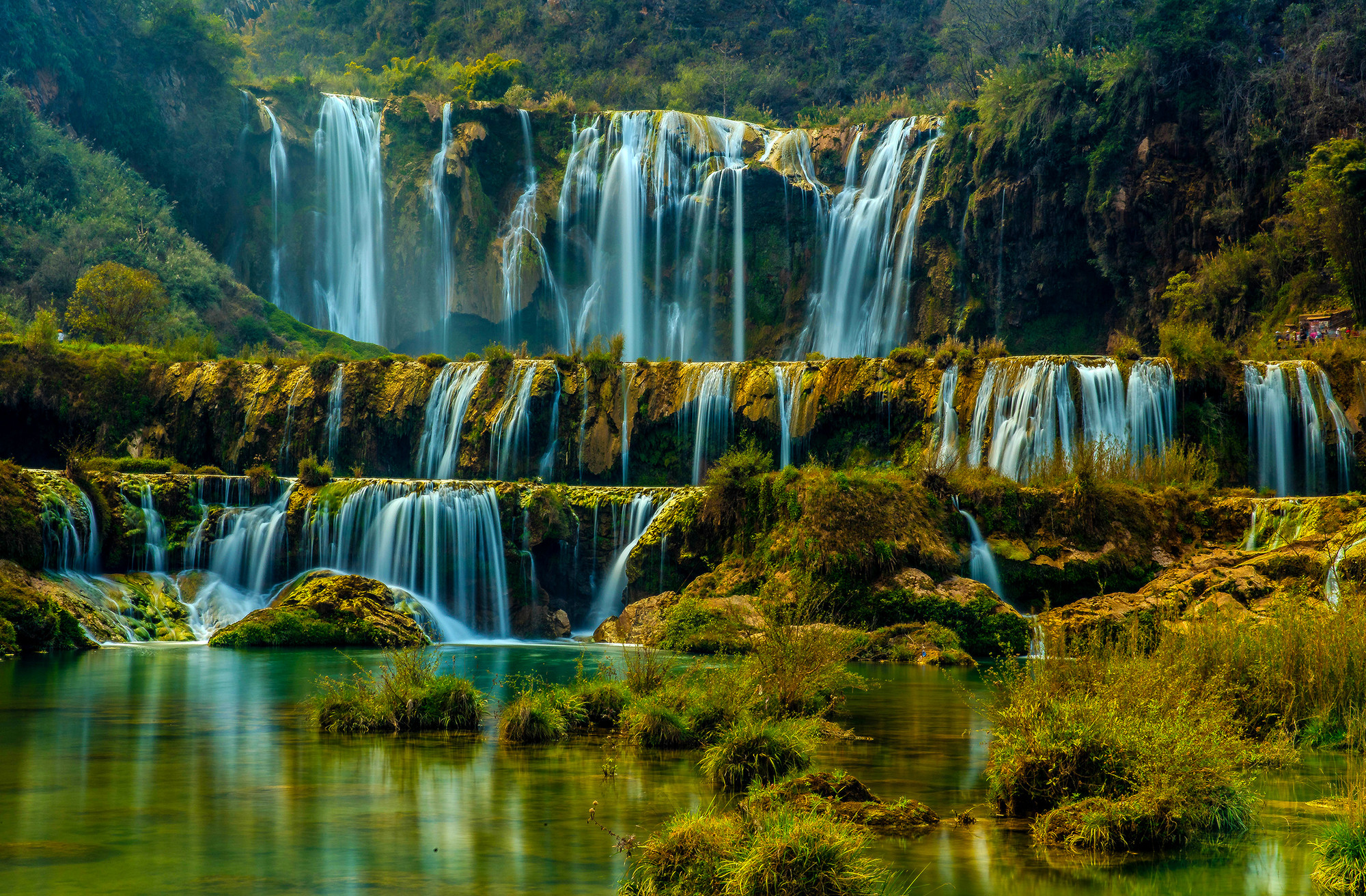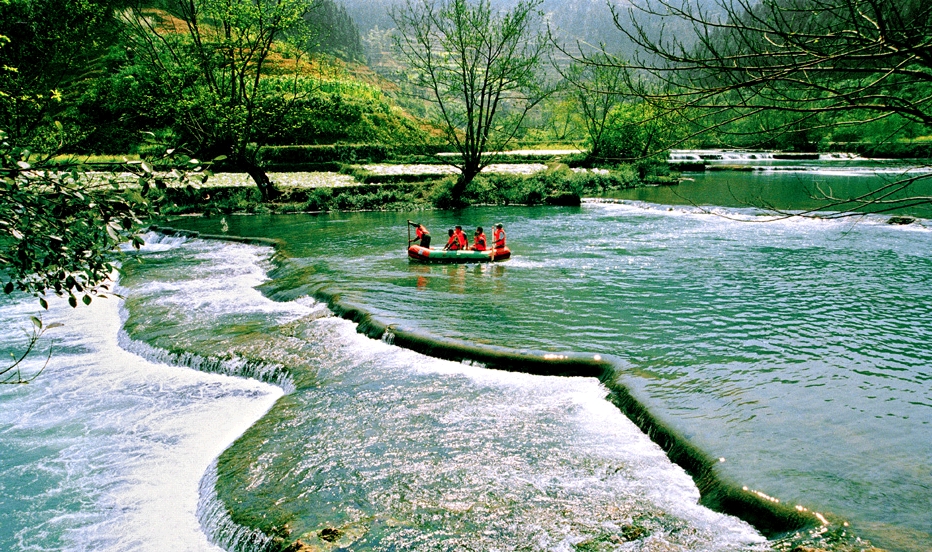 ‣ What to wear in Luoping County
From Jan. to April of the Luoping County, the weather was a bit cold, and the temperature in about 10-16 ℃. In the morning and night, the temperature is low. The temperature difference is large, and it is best to wear fleece jacket. In addition, it is better to wear brightly colored clothing, as this will make beautiful pictures in canola flower sea.
‣ Recommended Hotels in Luoping County
Budget hotels are centralized around the bus station of Luoping County, Zhenxing Street(振兴街) and Xinfeng Street(新风街). The price ranges from CNY 100 to 400 per person.
• Cloud Hotel Luoping
• Chinese Name: 罗平云之梦酒店
• Address: Luoxiong Town, Luoping County, Qujing City, Yunnan Province
• Phone Number: +86 874 822 9111
‣ Transportation of Luoping County
Train and Regular Bus is available from Kunming to Luoping. It cost about 3.5 hours by train and 4.5 hours by bus. From Luoping, there are buses to Qujing, Luliang,Shizong,Kaiyuan and Kunming. Travellers heading to Yuanyang from Luoping usually get transferred in Kaiyuan (South Bus Station). The latest daily bus back to Kunming is at 9pm.
• The Best Time to Visit Luoping Rapeseed Flowers
The prime time to start your Luoping Rapeseed Flowers Tour is from about February, 20th to 25th. Until March, the flowers would have faded. But if it gets warm late, the flowers will bloom late. Anyway, the time for the blooming is different from year to year.
• Photograph Tips for Luoping Rapeseed Flowers
If you want to shoot beautiful photo, you had better go to Luoping in fine day. The best time to shoot Niu Street is 4:00-6:00 pm. The best time to shoot the sunrise of Golden Cock Peak is around 7:00-7:30 am and to shoot the sunset after 17:30 pm.
• For travel between the various scenic spots within Luoping county, you can hire a motorized-rickshaw or take a minibus. But sometimes minibuses can be rather annoying, as the driver tends to wait for people to fill up the bus and completely neglects any schedule. Yunnan Adventure Travel offers professional English tour guide and experienced driver for travelers. If you are interested in Luoping County or wonderful Rapeseed Flowers Tour, please contact us to design your privater tour.