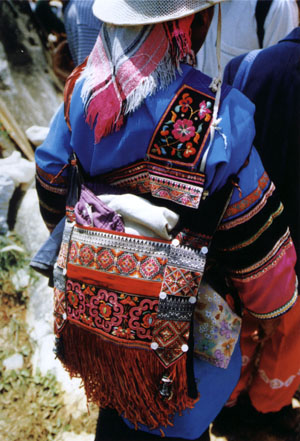 The Yi ethnic minority top others in China due to its variety of branches scattering throughout the provinces of Yunnan, Sichuan and Guizhou. Many Yi ethnic branches are identified according to costumes they wear. The colourful Yi ethnic clothing has been matched by a wide range of satchels that are made mainly from leather (in Northwest Yunnan), flax (in West Yunnan), cotton, and so on.
Leather Bags
Made of tanned and soft sheepskin or cowhide. Sometimes, the Yi ethnic people in the northwest of Yunnan also use chamois to make bags, rare but graceful and beautiful.
Huocao Cloth Bags
The locally called "Huocao Grass" is known in Latin as Epilobium angustifolium.
Huocao cloth in West Yunnan is normally made from Epilobium angustifolium. This kind of home-made rare cloth is usually confined to some ethnic branches such as Baiyi people of the Yi ethnic minority of Heqing County, so bags made from tit are naturally valuable and hardly available on the markets.
Flaxen Bags
Stiff and durable, flaxen bags are masterpieces of ethnic satchels. Sani ethnic satchels in Shilin County of Kunming, for example, are especially famous for the delicate cross-stitch patterns and are the favourite of many tourists from home and abroad.
Cotton Bags
Bags mainly made from home-made cotton cloth vary much in designs. These fine and smooth bags are, most of the time, decorated with embroidered patterns such as flowers, people, animals, fruits and traditionally auspicious symbols, all brightly colored.