Yiliang(彝良) is a county with abundant resources, especially food materials, like Tianma(天麻), potato, bamboo shoot, mushroom, etc. These materials make Yiliang people feel up to cook delicious dishes. Because of its' special location-lies in the junction area of Yunnan, Sichuan, and Guizhou province, people's eating pattern here is deeply influenced by the other two provinces. Here are some local dishes of Yiliang county: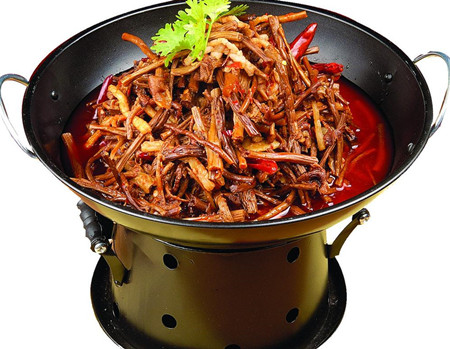 Griddle Cooked Tea Tree Mushrooms(干锅茶树菇)
As we all know, Yunnan is abound in mushrooms, and the mushroom dishes are very popular among Yunnan people, Yiliang is no exception. In Yiliang, tea tree mushroom is a specialty. As one of the most eaten mushroom, it is usually griddle cooked among the local people. In recent year, griddle cooked tea tree mushroom has became a famous local dish, especially when the guests pay a visit, the dish is indispensible.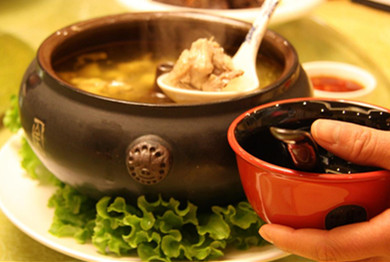 Steam Pot Chicken with Tianma(天麻汽锅鸡)
Steam pot chicken is one of the most famous dishes among Yunnan cuisine. It was originated in Jianshui county, Honghe(红河建水),till today, many places in Yunnan, carry this dish forward and develop it with their own flavors. In Yiliang, cooks add a nourishing Chinese medicine-Tianma into the steam pot chicken. This dish preserves the nourishment of the chicken, at the same time, it has the function of health caring, curing illness like dizziness, anemia and so on.